The Best Back Support Pillows For Office & Desk Chairs, According to a Doctor
Five expert-recommended suggestions to help you fight that dangerous slouch.
by Hudson Lindenberger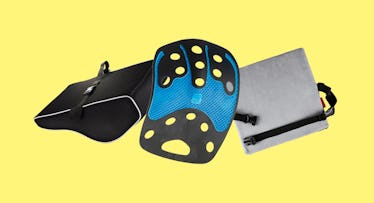 In today's increasingly digitized world we spend more time than ever sitting in a chair hunched over a keyboard, and what you're missing is back support for your office chair. That tends to lead to headaches, sore shoulders, and achy backs as our body rebels against the poor posture that many of us fall into when sitting down at a desk. Which is why you need a chair pillow, back pillow, back support pillow, or office chair cushion.
"When you sit at a desk most people naturally curve their lower back forward, and that then causes their upper back to counteract that unnatural position by bending backward," says Dr. Jeremy Rodgers the Director of Colorado Spine and Sport. "That puts a ton of stress on the facet joints that help with stability in your spine, this causes pain." Rogers has treated a wide array of people for this, from Olympians to office workers. By torquing our bodies into unnatural positions for extended periods of time, we create issues that can only be solved with an aid.
So how should you sit? The best way to describe it, says Rogers, is that you should be able to attach a plumb line to the tip of your head and your posture in a chair should follow it. "Your ears should be over your shoulders, your shoulders over your hips, and your spine should be straight when seated in a chair for any long period of time. That's the only way to get relief."
That's where back/lumbar support systems for a chair come in handy. They force you to keep your lower lumbar part of your spine in a straight line, which then forces the rest of your back into line. When you are looking for something that will help you the first thing you need to figure out, per Rogers, is how much of a curve in your spine you are having and how much help you need. "If there is not much of a bend then something a bit more compressible that allows your back to sink in might be best, if more of a curve then something more solid."
What that means is what works for one person, might not help another person at all. "Often people have to try several different supports until they find the one that helps them the most," says Rodgers. To help you sit straight, here are five back/lumbar supports that he uses in his practice and highly recommends.
"This active system helps your body develop the muscles needed in the core to solve the issues themselves," says Rogers who considers this one of his most prescribed supports. Designed to make people change how they sit, the Back Joy causes your muscles continually work to keep your spine in the right spot. With a small footprint it works in almost all chairs, fits in cars, and travels easily. "I would not recommend this to people with large curves in their lumbar regions, they would need to work up to it," says Rogers. "But once they are feeling better, and sitting straighter this will help them not backslide into bad habits."
Rogers uses this cushion most with athletes and others who tend to have a medium curve in their lower back. "Their developed Gluteus Maximus muscles tend to cause them to lean forward more, but their overall developed bodies holds them more erect than others" The pillow's memory foam construction compresses around the spine to keep sitters erect while not allowing your spine the ability to bend much. It also travels easily and, most importantly, can be strapped into place, something Rodgers says is key with all systems.
When Rogers' patients have the least amount of space between their backs and the seat back, this is the pillow he recommends. "It's fairly uncompressible and does not give much, which is great for people with fairly straight sitting positions," he says. Made from memory foam, it also has a ventilation system built in so it does a good job of regulating the temperature to your back. It's also easy to install and straps in place. "The one drawback with this one is that it offers the least amount of correction to the back," says Rogers. "So if you start slumping forward more you would need to more to a pillow with more support."
One of the most basic designs of the group, Rogers says not to don't discount it at first glance. "It is very well built and is perfect for someone who spends long amounts of time driving — police and airline pilots," he says. "It offers support to the back for individuals who moderately lean forward in a chair at the office too." It's built from mesh and wire and offers medium compression so it can straighten the spine of most sitters. It straps securely in place and, per Rogers, also offers the best ventilation
This is one of the few that, per Rogers, offers a mid-back support that helps stabilize the shoulder blades, one of the leading issues in neck pain. "That helps people then align their whole spinal core, thus solving most of the issues that come from sitting in a chair all day long." It's constructed from a closed foam core that offers little compression so it's best for people with little to no lumbar curvature. Rogers also gives it bonus points for not moving much at all once strapped in.
Every product on Fatherly is independently selected by our editors, writers, and experts. If you click a link on our site and buy something, we may earn an affiliate commission.
This article was originally published on