The Best Babysitting Apps for Finding Somebody to Watch Your Kid
Scoring a last-minute babysitter just got a whole lot easier.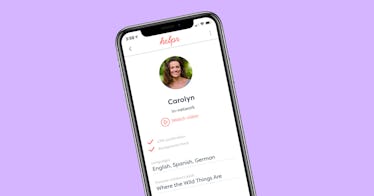 With widespread vaccination rates, low levels of infection, and boosters at will, it's time for you and your spouse to find a babysitter and grab a night out. Two years ago, that would have been easy — call one of your preferred high school seniors and Venmo to reserve. Well, here's a wakeup: After 24 months, your favorite sitter is a sophomore in college out of state or already an electrician. For parents striking out after so long away from the game, a babysitter app or babysitter website can help you discover someone who's reliable — and vetted. So if the only thing standing between you, your partner, and a couple of flutes of wine is the right babysitter, it's time to book your night out and try to not slam the door ion the way out.
Finding the right babysitter introduces a new kind of magic to your life (they're like unicorns that way). Having some alone time is very necessary, both as an individual and a couple, and unless you're one of the lucky few who can freeload off the in-laws, a babysitter is an absolute must. Tons of babysitter apps and nanny websites tout exceptional services, but a few stand out. Each one of the following babysitting sites makes finding, scheduling, paying, and communicating with potential caregivers easier than it's ever been. Date night, here you come, finally.
Seeking a babysitter but don't have time to deal with legwork? Sittercity has so many caregiver profiles — more than 1 million nationwide providing babysitting, nannying, pet sitting, senior care, tutoring, housesitting, and housekeeping services — that they decided it'd be easier for them to bring the results directly to you. Just search by zip code or post babysitting jobs and you'll get matches based on their skills and schedule. You can then read references and reviews, book interviews, and even purchase background checks. The company says it connects a family to a nearby sitter every nine seconds. Many college students, who are good with kids and looking for extra cash, flock to Sittercity, which also means you'll be able to find countless affordable options on the app.
Pricing: $35 per month; free basic membership available
When it comes to babysitting websites, this one is a behemoth: It's largest online provider of caregivers (including babysitters, nannies, special needs, tutors, senior caregivers, pet sitters, and housekeepers) — more than 25 million people in 20 countries use the site and its companion Care.com app to find babysitters. Both tools let parents find, review, book, and pay babysitters, and its new streamlined, three-step "Date Night" engine makes it even easier to get out to see your allotted one blockbuster movie a year.
Pricing:$39 per month or $13 per month for 12 months; free basic membership available
When you need childcare quick, Helpr allows you to request a sitter with as little as three hours' notice; the site connects you with a network of screened professionals. All sitters have at least two years of childcare experience, must complete phone and in-person screenings, provide references, submit to a social media review, and have CPR training. You pay only for the hours booked, so there are no monthly fees. At this point, you can book a sitter in Los Angeles, Santa Barbara, Ojai, San Francisco, New York, Atlanta, Seattle, and Chicago.
Pricing: $23 to $26 an hour.
If you've ever thought, "There must be babysitters near me needing work, but how do I find them?" Bambino might be your new BFF. This popular babysitting job app uses your Facebook account to connect you with sitters your friends have used and recommended. It lets parents send a booking request to the sitters you've approved, building a list of those who are available and letting you choose the one you want. There are four different rates sitters can earn, from junior sitters (13- to 15-year-olds who are new to babysitting) all the way up to elite sitters (18 or older, lots of experience, background-checked). Timing is automatically tracked and payment takes place directly in the app.
Pricing: free to download, booking fee 0f $2-3 per session, in addition to rate you determine
With 150,000 caregivers in 60 cities and an average response time (to last-minute requests) of three minutes or less, UrbanSitter is the Uber of babysitting websites. One simple interface powers the entire process for parents and nannies. You can search and post jobs for free, browse categories like experience, pay rate, and background, but you have to pay the monthly fee to book a sitter. Make payments and post reviews, all in the app.
Pricing: $35 per month, $124 per year with a subscription, sitters set their own rates
Komae is a free babysitting cooperative app that lets you connect to and swap babysitting with people in your community. Instead of paying a sitter, you tap into your network and take turns caring for each other's kids. Of course, this kind of informal arrangement can be coordinated without an app, but Komae circumvents the resentment that comes when babysitting duties don't even out by having members earn points for babysitting and spend points for having someone else watch their kids. There's still room for flexibility, as points don't have to be directly reciprocated. You can earn points by watching the Smith kids but spend them by having Johnson's watch your kids. And don't worry if it doesn't end up exactly 50/50. If you need more help than you have time to provide you can purchase extra points. And if you're willing to do more babysitting than you need from others, you can cash out on earned points. Babysitters get extra points for additional children and sitting on the weekends. Parents can also create specific groups so sharing is limited among people they know and trust.
Pricing: Komae is free to download, and babysitting is paid for in points. Each account starts with 20 points, and one point is worth one hour of babysitting. (There's a flat rate fee of one additional point for any number of additional children and another point for hours on the weekends. ) Additional points run at $5 an hour.
For families who need more consistent childcare, Nannylane helps connect you with local full and part-time nannies and coordinate nanny shares, in which two families share the services of one nanny. For a monthly fee, they offer a payroll services, so families can pay their nanny on the books, have taxes automatically deducted and filed, pay stubs produced, and payments sent to nannies via direct deposit. The payroll service also makes paying for a nanny share easy, as it calculates each family's bill based on how many hours they shared. Nannylane is currently available in New York, Chicago, San Francisco, Houston, Dallas, Los Angeles, Seattle, and Portland.
Pricing: free basic account, $55/month for Nannylane PLUS, which includes a more refined candidate search, background checks, and payroll services.
Every product on Fatherly is independently selected by our editors, writers, and experts. If you click a link on our site and buy something, we may earn an affiliate commission.
This article was originally published on