The Best Baby Swings, Baby Bouncers, and Baby Rockers to Soothe Your Infant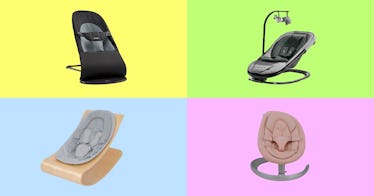 The best baby swings, baby bouncers, and baby rockers are to new parents what the hammer is to Thor: Utterly indispensable. A wonderful baby rocker sleeper gives parents a break, which in itself is priceless. But while a baby rocker swing is a solid and safe place for babies to hang out while you maybe grab an episode of Bridgerton or read a book, you should never let them sleep in rockers or swings unsupervised, because snoozing at an angle is unsafe for infants.
"You need a flat surface, nothing inclined, a firm mattress, with a tight-fitting sheet," says pediatrician Dr. Ben Hoffman, the chair of American Academy of Pediatrics' Committee on Injury, Violence and Poison Prevention. "If you have a baby in a swing and they enjoy it, they're going to fall asleep in there from time to time. You need to be there and constantly vigilant."
Being in a swing will generally calm your baby (and give your arms a break) because the rocking motion can trigger natural sleep rhythms in infants. And that means you need to be present and watchful when your child is dozing off in that swing. Other things to keep in mind when choosing a bouncer, rocker, or swing:
Aesthetics and size, to make sure the rocker or swing works within your home in terms of space and design.
Output, depending on whether you prefer one that's battery-operated, one that plugs into an outlet, or one that rocks on its own because it is powered by the baby's movements.
Weight limit, with some swings maxing out at 20 pounds and others lasting well into toddlerhood because they convert into chairs.
Not all rockers or bouncers are created equal, both in terms of features and functionality. Thus, we've listed the weight limits for each, plus other factors that will impact your decision.
The Best Baby Rockers
The Best Baby Bouncers
The Best Baby Swings
Every product on Fatherly is independently selected by our editors, writers, and experts. If you click a link on our site and buy something, we may earn an affiliate commission.