The Best Baby Gates To Prevent Your Now-Mobile Kid From Head-First Exploration
No joke. Because major accidents happen.
by Lexi Dwyer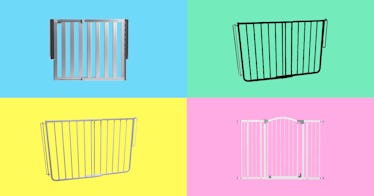 Toddlers are like miniature ninjas. One minute, they're quietly designing entire cities with building blocks. The next, they're exploring the concept of gravity by taking on the stairs. When properly installed and used, the best baby gates for stairs (otherwise known as child gates), including the ever-popular Retract-a-Gate, keep intrepid, rambunctious toddlers contained and safely away from fireplaces, steep stairs, or the great outdoors.
If you need further proof — besides observing your curious and active child — that a top of stairs baby gate is a good idea, consider this stat from a 2012 long-term study in the journal Pediatrics: "A child less than 5 years old is treated in a US emergency department, on average, every 6 minutes for a stair-related injury."
For tops of stairs gates, experts strongly recommend that parents go with hardware-mounted baby gates. Simply put, those are the most secure because they're screwed into place, even though they do leave holes in your walls. Pressure-mounted baby gates are another option; they're more flexible because you can move them from place to place and are best for flatter areas, like doorways.
Every product on Fatherly is independently selected by our editors, writers, and experts. If you click a link on our site and buy something, we may earn an affiliate commission.
This article was originally published on