The 7 Best Baby Monitors Without Wi-Fi — So You Can Keep An Eye On Baby Without Privacy Concerns
We only recommend products we love and that we think you will, too. We may receive a portion of sales from products purchased from this article, which was written by our Commerce team.
by Lauren Beach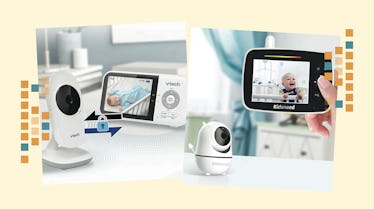 We may receive a portion of sales if you purchase a product through a link in this article.
Baby monitors let you watch your kiddo sleep, which also helps you sleep knowing if they cry out for you, you'll hear them. The best baby monitors without Wi-Fi also let you rest assured it's only you watching them, since the camera is in a closed circuit with the monitor. There are other practical reasons to eschew Wi-Fi as well. If your internet goes down, so does the baby monitor. Another major advantage of Wi-Fi-free baby monitors is that they don't require an app or connecting to your home network, making them faster and easier to set up. And all of the models below have a parent unit, a plus if you're prone to forgetting to charge devices.
Here are some key considerations to keep in mind while you shop.
Features To Look For In The Best Baby Monitors Without Wi-Fi:
VOX Mode: This feature puts the parent unit into sleep mode when your baby is quiet and turns it back on when sound reaches a certain threshold (which is adjustable on some models.) It conserves the battery and lets you relax by not broadcasting every wiggle, shuffle, and snore.
Screen: For a high-definition view on the screen, look for at least 720p. A baby monitor with 480p is standard resolution, which can still provide a good view of baby, just with fewer pixels (aka clarity).
Battery Life: The amount of time you'll get between charges varies between models, ranging from four hours to nearly 30 hours.
Zoom: All of our favorite baby monitors without Wi-Fi have a zoom feature, but most utilize digital zoom, which allows a closer view at the expense of image quality. Models with physical or optical zoom are harder to come by these days, but with it you'll have the added advantage of a clearer image when zoomed in.
Pan/Tilt: Several models allow parents to remotely change the camera's angle and field of view. This is helpful for monitoring a child in a playroom, for example, but is less critical if you're mounting the camera over a crib.
Multiple Cameras: Most of our picks allow you to add additional cameras to monitor multiple children, spaces, or even angles of the same room. Most allow you to manually switch between cameras and can be set to alternate between them.
Temperature Monitoring: This feature is handy in the colder and hotter months, although many models tend to be several degrees off, according to parent reviews on Amazon.
Two-Way Talk Mode: Some parents use this feature to reassure their baby. Other babies find the disembodied voice unnerving or it makes them upset you're not there.
Lullabies: Gentle music can help your baby drift off to sleep and can mask outside noise. Most models have at least one lullaby and some have up to five.
Regardless of what features are most important to you, ahead you're sure to find the best baby monitor without Wi-Fi for your baby and home.
In a hurry? Here are the top picks for the best baby monitors without Wi-Fi.
1. The Overall Best Baby Monitor Without Wi-Fi: eufy Video Baby Monitor
2. The Runner-Up: Infant Optics DXR-8 PRO Baby Monitor