The Best Baby Food Makers to Blend, Puree, and Chop Your Baby's Meals
Whether you want to save money or simply avoid store-bought food, these baby-food makers have you covered.
by Brendan Charles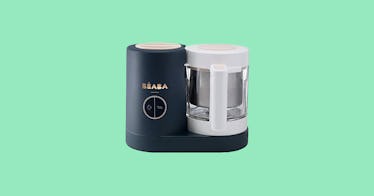 Steaming, blending, and pureeing vegetables and fruits to create homemade baby food sounds like a fun culinary chemistry experiment. For some, it is. For others, it definitely isn't, especially if you're limited in both time and counter space. It's a daunting, multi-step task. If you want a more simplified approach, investing in the best baby food maker or baby food blender could be the right choice for you.
Baby food makers streamline the process by letting you toss in the ingredients you want and having the machine do the rest of the work. Make no mistake: These things are a luxury, and you can achieve the same results, albeit with more effort, by using a regular immersion blender. But the best all-in-one baby food makers are all about efficiency. To steal a phrase from pitch-man Ron Popeil, they let you set it and forget it. You then freeze the food (the Cleveland Clinic recommends keeping it in the freezer for no more than a month), and thaw it when the next dinner rolls around.
Efficiency comes with a price, however. If you want to shell out for that efficiency — or put one of these models on your baby registry — here are the best baby food makers on the market. Bon appetit.
Every product on Fatherly is independently selected by our editors, writers, and experts. If you click a link on our site and buy something, we may earn an affiliate commission.
This article was originally published on