8 Baby Christmas Outfits That Are Oh-So-Merry
With everything from a classic velvet dress to an elf costume, you'll have the best-dressed baby at any holiday gathering.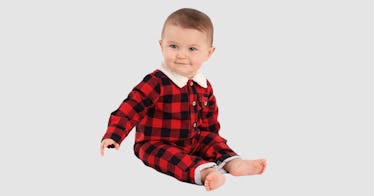 The only thing cuter than a baby is a baby wearing a festive outfit. And with the possible exception of Halloween, Christmas is the holiday that has a variety of clothing options, from Santa suits to velvet dresses, than any other. So while you deck the halls in your favorite ugly sweater, don't miss your chance to deck your kid out in our favorite baby Christmas outfits — at the very least, do it for the grandparents. Besides, your kid will only be a baby for so long, so why the hell not dress them up as a wriggly elf or santa? You'll be glad you have the pictures and the memories to look back during the teenage years when you're begging them to not wear sweatpants at Christmas Eve dinner.
Santa Claus Romper with Hat
There's no easier way to turn your kid into a mini Kris Kringle than with this romper-hat set. The only thing missing? A child-sized beard.
Elf
Of course, every Santa needs his elves. This outfit, complete with screen-printed buttons and belt, is an easy way to dress your kid as one of Santa's helpers. It's especially cute if you're dressed as Santa.
Santa Striped Dress
This grey and white-striped dress features a whimsical depiction of St. Nick, complete with a whirly beard and a giant star topping his hat like the one topping your tree.
You Serious Clark?
Your kid is too young for Christmas Vacation, but you're not too young to dress them in this romper, adorned with a quote from the movie, along with a matching hat and pants set with a Christmas tree strapped to the top of a car pattern.
Buffalo Check Sherpa One-Piece
This pattern is festive without being too in your face about it, and it's a tiny beanie and plastic axe away from being a great baby lumberjack Halloween costume.
Paw Patrol
These polyester footed pajamas feature the civic-minded pups of Thunder Bay dressed in their holiday best surrounded by Christmas lights and snowflakes.
Burt's Bees Baby Fair Isle
This organic cotton coverall and hat set is soft, breathable, and, most importantly, super stylish, a great choice for any holiday get together.
Velvet Holiday Dress
Velvet is a soft and thick material, making it perfect for the colder months. It also has the sheen and, in the case of this rich hunter green dress, the color that make it perfect for festive gatherings.
This article was originally published on