The Best Baby Car Seat Covers for Winter & Cold Weather
Because you should never put a baby in a car seat wearing a coat.
by Dave Baldwin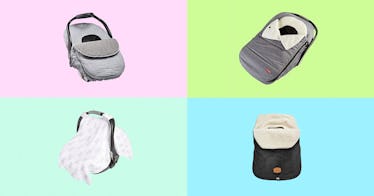 It's a car-seat safety rule that's always worth repeating: Never put a baby or toddler into car seat if they're wearing a coat. You need a winter car seat cover — and potentially one to use in the spring and fall. That's because with a coat, the added puffy jacket material puts enough space in between the child and the shoulder restraints to render the seat practically useless. In the event of an accident, the baby will not be protected, so get yourself a cute, warm, and cozy baby car seat cover for when the temps drop.
You want one that's easy to clean because, well, babies. Make sure it fits snugly around the exterior of the car seat to seal in warmth, and that it has openings so you can buckle your baby in correctly.
Obviously, a blanket is the cheapest option but car seat covers have become almost equally as ubiquitous these days since they're generally designed with an elastic edge that fits almost any car seat on the market. And as they secure snugly over the top of the car seat, parents also don't have to worry about dragging or dropping a blanket while walking into daycare.
The Best Car Seat Covers for Colder Weather
The Best Car Seat Covers for Warmer Weather
Just because it's not subzero out doesn't mean you no longer need a car seat cover. Some of them keep bugs and dust away. Others protect your baby from the sun and help them stay asleep. And some of them even double as nursing covers.
Every product on Fatherly is independently selected by our editors, writers, and experts. If you click a link on our site and buy something, we may earn an affiliate commission.
This article was originally published on