The Best Ball Pits for Kids and Toddlers
Because rolling around in a pool of plastic balls is, for some reason, pure joy.
by Donna Freydkin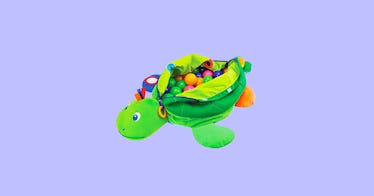 There are a few ways to witness pure toddler joy in action: You can put your kid in an outdoor swing and let them soar through the air and kick their pudgy little legs around. You can let them, oh, say, play with pretend butter, or thanks to the latest brilliant trend in sensory play, you can also let them roll around in a baby ball pit full of… well, plastic balls. In a world crowded with STEM toys and others that make big claims about development, the best ball pits for kids are a refreshingly simple way for toddlers and preschoolers to experience what play really means: letting go and having fun.
But before you invest in a ball pit for kids, there are a few things you must keep in mind: Make sure your child can sit up on her own before using it. Unless you have tons of floor space, you'll want a ball pit that folds up and keeps the balls contained. And you want balls you can clean. The reason for that shouldn't need any further explanation.
Every product on Fatherly is independently selected by our editors, writers, and experts. If you click a link on our site and buy something, we may earn an affiliate commission.