7 Great Art Supplies For Kids, According to an Art Therapist
From sculpting clay and create-your-own-board-game-kits to easels and art sets
by Hudson Lindenberger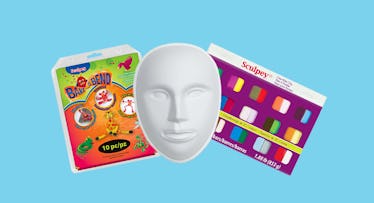 Kids aren't picky when it comes to creating art. Give them a few bare-bones supplies and they'll be scribbling for a few hours. In fact, when it comes to toddlers, experts say that some chalk, crayons, and a few water-based paints are the only supplies they need. As kids age and develop further, however, more art supplies should be added to the mix. But which ones are worth your money?
For that we turned to Drena Fagen a licensed Art Therapist and Co-Founder of New York Creative Art Therapists. She spends her days helping kids express their emotions through art and, as such, has a great list of supplies she thinks are great for children.
"Making art can help young people make sense of what they are experiencing, and that can be very empowering when you're feeling sad, angry, confused, or alone," she says. "The freedom to create something from our own brains is at the heart of why art can be therapeutic for anyone, but especially children because it is closely related to how they naturally play."
That's why she recommend getting art supplies for kids that have few boundaries or instructions. "Offering a wide range of materials to kids gives them an opportunity to make discoveries and vent their feelings in a way that step-by-step craft kits cannot." Here, according to Fagen, are seven of the best art supplies for kids.
Bare Books Game Board Kit
"These are all time favorites of art therapists," says Fagen. "The pre-fabricated blank game board has all the pieces to play, all your child has to do is pick a theme and create their own game. These are a blast for kids ages 8 and up and are the ideal blank slates for them to exercise creativity."
Sculpey Polymer Clay
Creating shapes with their hands is an excellent way to keep kids of all ages engaged and excited about art. This clay from Sculpey has 30 different colors to work with, stays soft until baked in an oven, and once hardened can be carved, drilled, sanded, and painted on.
Sculpey Bake and Bend
"A favorite art therapy activity is to create their own personal superhero," says Fagen. "It allows them to show their strengths and weaknesses in a fun manner." For that, her go to clay is Bake and Bend. Why? Unlike other clays, this product actually stays rubbery after it is baked in the oven, so finished pieces are still flexible and fun.
Adventures in Cartooning Set
Fagen calls this book "a super fun and simple book that makes any kid feel like they can tell a story using a comic format". With it, kids learn how to turn their doodles into actual cartoons as they help a famous director make a movie and engage in numerous adventures. It teaches them how body language and expression can help tell a story, and how their own might too.
Xonex Big Art Set
When choosing art materials for kids, Fagen says to look for those that offer a lot of creative freedom. Her pick is this set, which includes 18 colored pencils, 16 fine-point markers, 18 crayons, 14 pastels, eight watercolor cakes, two paintbrushes, two drawings pencils, a sharpener and an eraser and allows kids to to personalize the face of its rope-handled carrying case. "It's great to draw on the case," says Fagen. "And there are high-quality pencils and markers to work with, crayons, drawing pencils, and painting supplies. It's really good."
The All Media Easel Set
"A set like this is chock full of different types of paint which allows for lots of experimentation, perfect for kids over 10 who will be interested in exploring the different affects you can get with the three kinds of paint: watercolor, acrylic, and oil," says Fagen.
Creativity Street Masks
Now, we must admit: these are slightly creepy. But, these plastic masks, made in a variety of styles, are a favorite of Fagen, who says they're a fun form of self expression. "Masks can show who we are, who we want to be, or how we hide ourselves," says Fagen. "Plus, when you're finished making them, you can act out the different roles."