The Best Analog Alarm Clocks For Your Bedroom (That Aren't Your Phone)
Sleep better and wake up like a champion with these low- and high-tech alarm clocks.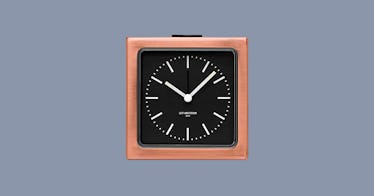 Using your cell phone as your morning alarm is like using your cell phone as your daily timepiece: it works, but it's bush league. Besides not tempting you with Candy Crush or messing with your circadian rhythm, a dedicated alarm clock can help you wake up more rested. But shopping for the best alarm clock isn't as simple as it seems; it involves a bunch of small decisions on price, features, size, and design that can be overwhelming.
Our analog alarm clock picks run the gamut from no-frills mechanical clocks to Bluetooth-enabled charging centers. They're all high-quality models available at a range of price points, and they reflect the best of the different kinds of clocks available for purchase. They're great for travel or your bedside table. Just remember, no matter which alarm clock you ultimately park on your nightstand, you'll be upgrading your evening and morning routines from one centered around your phone.
Best Alarm Clocks
Every product on Fatherly is independently selected by our editors, writers, and experts. If you click a link on our site and buy something, we may earn an affiliate commission.
This article was originally published on