The Beefer Propane Grill Cooks Your Steak In 60 Seconds
It reaches an insane 1,500 degrees.
by Donna Freydkin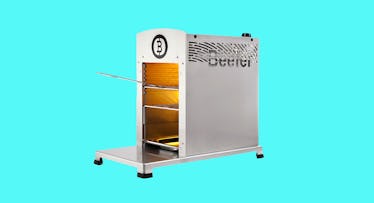 Just when we'd thought we'd seen everything in the grill category, from smart grills to the ultra-portable (and stackable!) cube grills, we came across the Beefer. This German-made propane grill has one trick, but it's a damn good one: It gets hot. Really hot. It reaches a mind-boggling, steak-sizzling, burger-browning 1,500 degrees Fahrenheit. For reference, rock turns to molten lava starting at 1,300 degrees Fahrenheit.
The Beefer is powered by infrared heat from top-mounted ceramic burners. While a typical grill usually reaches a temperature of somewhere around 500 degrees, the Beefer gets right to 1,5oo degrees in minutes. At the highest setting, your dinner with be done in under two minutes.
Heat matters. Restaurant-quality meat is cooked hot so that the steak caramelizes, holding in heat and giving you a crispy crush and luscious interior. When the juices drip into the so-called gastro tray and can be used to prepare delicious sauces, gravies, or broths. Because the grill gets so hot, so fast, your food is cooked in the time it takes you to grab a plate.
Vegetarians, don't fret. The Beefer also uniformly cooks fish and veggies, because it uses an infrared technology and different heat zones so everything comes out evenly done. Because you'd never expose a delicate cut of fluke to the same pounding heat as you would a New York strip.
The Beefer is meant for outdoor use only. Seems obvious, but let's be clear on that. It weighs 32 pounds and for the admittedly high price, you get one grill, two drip-catching trays, one pair of grilling gloves, two grill grates, and a handle for moving the grates.
Every product on Fatherly is independently selected by our editors, writers, and experts. If you click a link on our site and buy something, we may earn an affiliate commission.
This article was originally published on