JetKids' BedBox Is A Ride On Suitcase That Turns Into An In-Flight Bed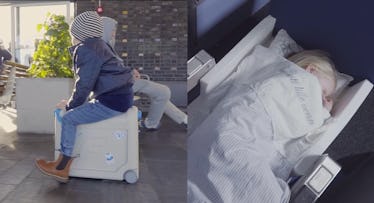 You don't need to be an AAdvantage Executive Platinum to know that flying with kids is infinitely more enjoyable when you get a bed on the plane. All you have to do is look at the thousand-yard stares of your fellow coach passengers. Since that super-secret elite status isn't going to happen for your family, an airline pilot from Norway has figured out a way to bump your kids up to first class with this ride on suitcase that converts into an in-flight bed: the BedBox by JetKids.
RELATED: The Best Carry-On Luggage For Family Travel, Including 3 You Can Ride
Leave it to Scandinavians to make their kids sleep in a crate. BedBox is a hardshell suitcase with four swivel wheels that, at 18-inches by 8-inches by 14-inches (and weighing 6.6 pounds), easily stows under the seat in front of you. It's top-loading, so there's no need to awkwardly unzip it mid-flight to retrieve that Curious George book. It can either be towed or ridden like a kick bike around the airport. The only drawback appears to be that the BedBox also has to hold a machine-washable mattress for the bed, so there's less room for actual stuff.
Once on the plane, the BedBox goes full Autobot. It transforms into a bed by extending the width of your aisle. Wait until the "fasten seat belt" sign goes off, flip the suitcase's lid, extend the plastic bed plate, and roll out the mattress. That's it. The BedBox is designed to be used by the window (although it does work in the middle too) and allegedly fits every type of plane seat (Spirit is probably thinking "challenge accepted.") For added safety, you can attach the seat belt under the child's armpits to keep them from knocking into your tray table. And, of course, when that sign comes back on, bedtime is over.
Of course, all of this assumes your kid wants to sleep more than scream. The bed is designed for kids up to 4 years old (77 pounds and 43-inches — if they curl up!). If they're too big, all is not lost. You can also turn it into a convenient footrest and do what you normally do — kick back with your iPad and watch old episodes of Friends.
This article was originally published on