This Sleek New Teardrop Trailer Is Ready For Your Summer Adventures
The bean trailer is like towing a tiny "modern hotel room" behind your car.
by Dave Baldwin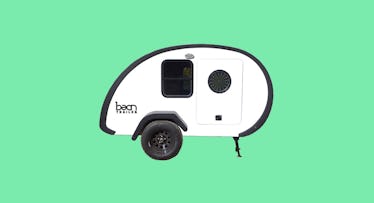 Teardrop trailers and tiny tow-behinds are enjoying something of a resurgence. It makes sense. Unlike campers and big RVs, they're lightweight and easy to tow with your everyday car ⏤ no need buy a truck or invest in four-wheel drive. They're cheaper than a bigger rig and don't take up nearly as much space in the garage or driveway. And best of all, they offer families a perfect compromise between full camper and full sleeping on the ground at the exact time you're trying to sell young kids on the awesomeness of the outdoors. What's not to love?
As for the coolest new teardrop to catch the camper's eye, that's Bean Trailers out of Salt Lake City. Billed as a tiny "modern hotel room" behind your car, the sleek Bean debuted in February at the Utah RV Show as an upscale traditional teardrop with the "fit and finish of a large luxury RV." It measures 14 feet from hitch to tail (the cabin is 9'8″ by 5'4″), stands 5-feet tall, and, thanks to a lightweight fiberglass shell, weighs around 1,600 pounds. The interior rocks wood veneer cabinets, Bluetooth speakers, and a 4-foot Queen convertible foam mattress. Better still, it can accommodate a rooftop tent so you can two sleep up top, two or three down below.
The customizable galley, of course, opens up in the back and features a laminate countertop and backsplash (stainless is optional), cabinets (with pass through to the cabin), and room for a sink, stove, and 12V refrigerator depending on the need. As for other options throughout, there are many: maple cabinetry, aluminum wheels, a second door, front window or skylight, to name a few. There's also an "off-road" package that includes all-terrain tires, 11-inches of ground clearance, and off-road fenders, as well as a solar-powered charging system.
The Bean Trailer comes in one of six colors and starts at $18,995.