This Easy-to-Use Baby Food Maker Saved Me a Ton Of Cash
Not only that, but when we didn't need it anymore, I sold it for nearly face value.
by Marcus Rodriguez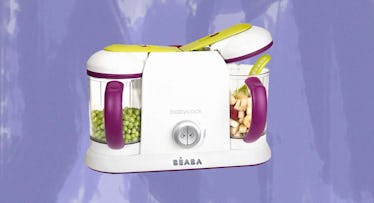 Buying a jar of baby food shouldn't lead to a reprimand from your wife. But when I got home from the grocery store and was met with a "How do you get baby food wrong?" it was clear I'd screwed up. Blown away by the sea of jars, pouches, and brightly colored boxes on the shelves, I'd neglected to look for the organic label. Honestly, I don't remember ever seeing them, but either way, it got me thinking: why should we pay for over-priced organic baby food, anyway? Why don't we make our own baby food and pocket the savings? So I suggested it to my wife who, now totally into the idea, went on the hunt for what became one of our favorite parenting appliances: the Beaba Babycook.
For me, the Beaba Babycook ticked all the requisite marks: It was techy, compact, and affordable at $100. What really sold me though was how easy it was to use. At its core, it's a 2-in-1 steamer and food processor. Fill the water reservoir, add fresh chopped veggies to the basket, turn the knob to 'steam.' When the 10-minute cycle finishes, empty the basket into the carafe and turn the knob to 'blend.' That's it. You just made baby food. (How you like me now, Gerber?)
RELATED: Best Baby Food Makers and Mashers For Prepping Your Baby's Meals
Roll with Beaba's line of kid-sized containers and you can make baby food for the week. Or, better yet, use the Infantino Squeeze Station to package your own baby food pouches at a fraction of the cost. Wash, rinse, repeat with fruit, and Junior's eating dessert.
I've also got to say, there's something incredibly satisfying about making your own baby food. For months, I had been a spectator on the sidelines as my wife handled all heavy lifting when it came to feeding our son. With the Beaba, I was finally in the game.
Now, the Babycook isn't new (it debuted in 1989), but the company does keep making it better. Our 2009 Original was fantastic, but not perfect. The lid had a little gap so it didn't close perfectly and cleaning meant fully disassembling it. Still, it worked fine. Newer models, however, offer more than twice the capacity, as well compatible accessories like a bottle warmer or an insert for cooking rice and pasta. Those would have been nice.
That said, the Beaba Babycook delivered as promised. And it saved us a ton of money in the process. Not only that, but its resale value is like Honda/Toyota high. We owned ours for five years (and through two kids) and the baby food maker sold for almost as much as we paid for it. No joke. And it was still running like a champ.
This article was originally published on