The Write Stuff: 10 Pencil Cases and Pouches for Kids
The better the case, the less likely their pens will explode and stain all their stuff.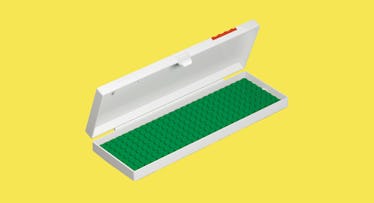 Even if your kid has become a tech dependent weakling, odds are that they'll still need to tote around paper and some writing utensils once they go back to school. That's why the pencil case is still a necessity. A zippered (or snap-shut or roll-up) case helps kids stay organized and ensures that they're not tossing loose pens into their bag that will definitely explode and leak over everything. Here are 11 stylish, secure options for every kid.
JAM Paper Pencil Case
The sheath-like design of this case eliminates the need to dig around in a pouch for the perfect pen or highlighter. Open it up and all of the writing utensils are easily accessible for quick access when inspiration strikes.
Sterilite Pencil Box
We couldn't not include this old standby. This reliable, clear box features a sturdy clasp and two interior compartments, one big enough for supplies like a calculator, the other well-sized for pens and pencils.
Poppin Copper + Purple Pencil Pouch
Poppin makes a bunch of solid office supplies, and this simple pouch is no exception. With its metallic exterior and purple interior, it's the most stylish item on this list.
LEGO Hard Pencil Case
The design of this case doesn't beat you over the head with LEGO branding: just a single red block on the white plastic shell provides a pop of color. Open it up and you'll find a removable LEGO base plate for building on the go. Oh, and you can put pencils in it.
Five Star Stand 'N Store Pencil Pouch
This fabric pouch it half mesh, so you can see what's inside. Once opened it can stand on its own, acting as more of a pencil cup than pencil pouch.
Yoobi Denim Unicorn Pencil Case
Yoobi is a buy one/give one company. When you buy this case, a zippable bag with multiple useful compartments, Yoobi will donate one to an American classroom in need. The sleepy unicorn stitched on the side is just an added bonus, one that a lot of kids will love.
iSuperb Transformer
As its name implies, this pouch transforms into a pencil cup when you slide down the top section. It has inner pockets, all canvas construction, and, most importantly, a cute cat printed on the outside.
OLIKE Super Capacity Pencil Case
If you kid likes to travel with a ton of school supplies, this is a great choice. The case is basically three good-sized pockets sewn into one case, attached at a single zipper. It's a great way to keep a lot of things separated while still carrying one package.
Easthill Big Capacity Pencil Pen Case
This case, the top seller in the category on Amazon, holds up to 50 pens. You can access them using the main zipper on top or through a side compartment that folds down. Opening the side compartment reveals a mesh pocket that you can put your favorite pens into for easy access.
Newcomdigi Colored Pencil Case
If you're raising an artist, this case, specifically designed for colored pencils, is a great choice. It can hold up to 72 pencils in multiple compartments that fold into each other like a book. Individual slots for each pencil makes it easy to keep everything organized and prevents the pencils from becoming dull when not in use.
Hellorange Light Weight Water Resistant Zippered Big Capacity Pencil Pen Case
This basic case is made of Tyvek, the same stuff they wrap new houses in to make them waterproof. It's got a nice finish, almost like waxed canvas, and will stand the test of time (or a kid who's super hard on his or her stuff)
Every product on Fatherly is independently selected by our editors, writers, and experts. If you click a link on our site and buy something, we may earn an affiliate commission.
This article was originally published on