This Collapsible, Full-Sized Stroller Is My Toddler's Best Travel Companion
It's sturdy. It turns well. Oh, and it just so happens to fit neatly in the overhead bin.
by Benjamin Shahrabani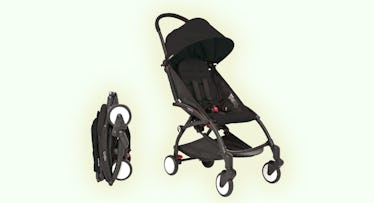 For the first six months of our son's life, we pushed him around in a monstrosity of a stroller. It was frickin' huge and unwieldily, and as a car guy, the best way I described it was like driving a giant Suburban-class SUV down the tiny streets of an Italian village. What we really needed, living in LA, was a nimble little Fiat. It was only a matter of time before we'd stroll into some neighborhood restaurant and get stuck in the doors, like a movie scene where the oversized car gets wedged halfway down a quaint cobblestone alley.
RELATED: The 6 Best Umbrella Strollers
We hated it. I didn't want a monster truck for a stroller. I wanted something light and easy to drive. A carriage that didn't fill half my trunk or require I do regular deadlifts to hoist it. We said enough. Mea culpa. We had registered for the wrong stroller, and it was time to move on. And, so, after doing some more research, we decided to roll the dice on a relatively new-to-market, at least at the time, compact stroller from France with little U.S. distribution ⏤ the Babyzen Yoyo.
The Babyzen Yoyo was ⏤ and still is ⏤ one of the lightest strollers on the market. It weighs less than 13 pounds and folds up so compactly (collapsed size: 20.5 x 17 x 7 inches) that it can be stowed in the overhead luggage compartments on most airplanes. It quickly collapses at the touch of a button ⏤ so it's packed before anybody can throw a dirty look your way ⏤ and carrying both it and the diaper bag off the plane is easy thanks to an attached shoulder strap. While other passengers wait on the jetway for their gate-checked stroller, we're already at baggage claim. Not only that but the Babyzen Yoyo fits nicely in the footwell underneath your child's car seat so you not forced to waste precious trunk space.
Obviously, the Babyzen Yoyo checks a lot of boxes for our family. And having had another stroller with which to compare it makes us appreciate what we've got even more ⏤ a lightweight pram with full-size features. Right down to the four-wheel suspension and integrated storage basket underneath that holds way more stuff than I could have imagined. For me, that was a game changer. Plus, compared to other travel strollers out there, the Babyzen Yoyo is sturdier and "easier to drive" than it probably should be, considering its weight.
As for drawbacks or criticisms? The fabric of the seat and canopy hasn't worn as well as I might have hoped (especially for the price) and, despite attention and cleaning from local professionals like the Tot Squad, it may need replacement sooner than later. As for that price, around $420, the Babyzen Yoyo isn't cheap. But then again, how many full-sized strollers can you tote around on your shoulder?
This article was originally published on