The Best Infant Toys and Baby Toys, According to Child Development Experts
Because you don't have time for hours of peek-a-boo.
by Elizabeth Alterman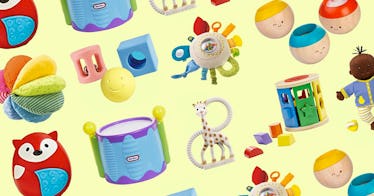 Sure, babies can play with their feet or your nose for hours. And if you have time for repeat sessions of peek-a-boo, you're an unsung hero. But baby toys and infant toys have a key place in children's lives, too. The best developmental toys for babies help them develop their fine and gross motor skills, and allow them to safely explore and make sense of what they see around them.
"Babies from their birth day to their first birthday are learning all about how this new and amazing world works. Young babies enjoy easy-to-grasp objects they can safely explore with their hands and mouths. Rattles, maracas, or textured teethers are perfect. Starting at about 6-9 months old, they enjoy toys that give them the thrill of cause-and effect—think about a busy box with buttons to push, a drum or toy piano to bang or plink, or bubbles for you to blow and them to pop," says Rebecca Parlakian, the senior director of programs at Zero to Three.
Choose toys in bold, contrasting colors that are perfect for developing eyes. Different textures encourage your baby to reach out and grab their playthings and learn about their world through play. And don't buy into any claims that battery-operated toys make babies smarter. In fact, as a rule of thumb: The more stuff a toy does, the less stuff your child has to do to engage with it.
Every product on Fatherly is independently selected by our editors, writers, and experts. If you click a link on our site and buy something, we may earn an affiliate commission.