Best Baby Sun Hats, According to Amazon Reviewers
These caps keep the rays at bay.
by Donna Freydkin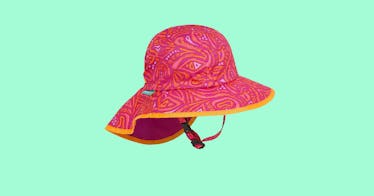 The sun is no joke, especially when it comes to babies, which is why every parent needs a baby sun hat. According to the American Academy of Pediatrics, babies under six months of age should stay out of direct sunlight. Make sure they wear sun-protective clothing that covers their arms and legs, and that they wear brimmed hats that shade their necks. And make sure anything you choose has a sun protection factor of UPF 50, which means hats that offer excellent protection from the blazing orb in the sky.
But summer should be fun, with trips to the beach to build sandcastles. So to take some of the hassle out of that whole endeavor, here are our favorite sun hats that also get top marks on Amazon.
See more: Best Sunscreens for Kids
This sun hat has a built-in sweatband, and an elastic band. The flap is not removable, but we love how flexible and lightweight it is.
"I love the fact that the brim doesn't fall down not matter how wet it gets. I love the fact that it has towel material around the crown of the hat on the inside to keep sweat out of his eyes. It's really is a perfect hat. Doesn't look babyish at all."
If your kid tries to rip this sun hat off, good luck. It has an adjustable chin-strap to make sure it stays put, and a breakaway safety clip which can be clipped back in.
"Great hat. It stays on as promised and has great coverage. The brim is somewhat bendable so if you want to adjust it a bit to allow your kid to have more or less sun exposure, it works great."
Tuga sun hats give your kids full UV protection, and are made from fabrics that the brand says are free from chemical sunscreens. Meaning, they're great for picky kids who have sensitive skin.
"The sun coverage was perfect for the kids on the beach and covered the back of their necks. The strap was great especially on windy days. I got a large for my 4 year old and a medium for my 2 year old. Both were a great fit with a little room to grow. We have purchased many hats over the years for our beach vacations and these have been our favorite by far."
This sun hat protects your baby's head, neck, and eyes while they're playing in the water. It dries quickly, and it has an elasticized back that grows with your child.
"This sun hat works fantastic! It shades the neck, face and sides of head really well. I prefer this over the other I play sun hat. This one if more breathable, it drys fairly quickly and stays on well. I was very impressed by the quality. It's very light weight. This hat is a must have!"
This UPF 50 sun hat is made of a four-way stretch fabric that is chlorine- and saltwater-resistant. It has no pesky straps, and has an internal soft terry sweatband.
"Great little hat. I have had issues with most sun hats staying in place as they always seem to fall over my sons eyes, but this does the trick. It stays put like a baseball cap, but provides more protection for the ears and neck. My son actually kept the thing on for hours while playing outside! He is 18 months for reference."
This wonderful hat has a sizing strap that adjusts to your child's growing head, and breathable mesh panels to keep that noggin ventilated. And it's almost impossible for kids to take it off. Score.
"I cannot stress enough how much we love this hat! Our son is a year and a half old and recently started to throw his baseball cap off. Living in a hot and sunny climate with little shade we knew we had to find a solution so that he could continue to be outdoors with the sun's powerful rays…this is the solution!!!"
There's a breakaway chin strap for safety, and a reversible design, meaning you get two chapeaus in one. The moisture-wicking fabric prevents sweat buildup. It's got a wide brim, though it doesn't fully cover the neck.
"I bought one of these for each of my kids and they love them. Soft and comfortable for them, nice bright colors, sturdy brim that does not flop, protects my kids' faces, ears, and necks. And there is a chin strap!! So hard to find a kid's had with a strap. What happens when it is windy? This hat fit the bill, and I would call myself a discerning customer. Definitely recommend!"
Every product on Fatherly is independently selected by our editors, writers, and experts. If you click a link on our site and buy something, we may earn an affiliate commission.