The Best Baby Sleep Gear & Home Services
Things that make you go Zzz.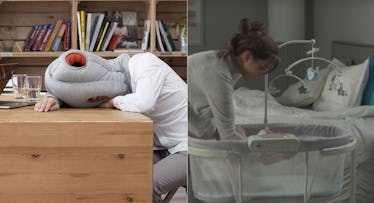 The following was produced in partnership with our friends at Fisher-Price, whose toys and baby gear enrich the lives of young families and bring joy to generations.
A baby registry is the closest most parents will ever come to Supermarket Sweep. It's a tradition with real virtue that's also — almost by definition — inadequate. Not only are those initial presents overwhelmingly geared toward babies, the list rarely includes or recognizes the intangibles parents need and want: time, sanity, a nap. Those never seem to be available in stores.
That's where this registry is different. This list contains products, but the ultimate goal is helping parents sleep. Baby comfort begets parent comfort and parent comfort, which is ultimately a euphemism for "time," leads to a happier baby. To that end, the stuff on this list isn't just designed to make for happy babies, but for happy, well-rested families.
The SAG-AFTRA Foundation's children's literacy website streams illustrated story videos of beloved actors reading children's books to facilitate cognitive development and inspire a love of reading. And brings parents as close as they'll ever come to living their dream of having Betty White be their grandma.
Aden + Anais Easy Swaddle
Swaddling keeps babies from smacking themselves, helps regulate temperature, and actually helps keep them from startling awake. But building a baby burrito can be a pain in the butt. This cotton muslin swaddle with adjustable straps is called "Easy" for a reason. So babies still get all the benefits of swaddling and their parents get none of the headaches.
Soothing Motions™ Bassinet
After a crib, a bassinet is the second-most important piece of nursery gear for a newborn's first three-to-five months. And, unlike a crib, bassinets can move from room to room, so parents can keep tabs on napping babies while cooking, cleaning, working, or Netflix-ing. This one hits the sweet spot of comfort with soft materials, swaying motion, vibration, and light projection. The projector can be removed from the bassinet and used as a tabletop soother, and it has an overhead mobile because, "Oohh, a lion! Rawr."
Honeywell Cool Mist Humidifier
A humidifier will get passed over on most registries for a more Insta-worthy toy or monkey suit bath towel. Which, in fairness, is adorable. But not as vital as air. Honeywell is the Sweethome's pick for best humidifier. It's quiet, easy to clean, and features patented mold-, bacteria-, and fungus-killing technology. Better air quality means better sleep — for adults and babies alike. Seriously, don't sleep on the humidifier. Do sleep easier with the humidifier.
Stow 'n Go Bassinet
Like the Soothing Motions, but slightly stripped-down. It still vibrates and is plushly padded, but the Stow 'n Go quickly and easily disassembles, packs into a bag, and reassembles so babies always have a comfortable, familiar place to sleep. Even if their parent is spending an uncomfortable night on the in-laws' sleeper sofa.
Say it together, now: friends don't let friends parent hangry. It's bad enough they're barely sleeping. At least keep them fed with Chef'd, a meal delivery service providing family or single meals sourced and created by world-renowned chefs. Fluffy mashed potatoes also make a comfy pillow in a pinch.
Revolve Swing
What's the difference between this and the Rock 'n Play? That one just rocks. This one swings in a circular motion, mimicking what babies experience in the womb. It's also packed with features like six speeds, 19 songs and sounds, dual-position reclining seat, and a slim, space-saving frame. Sounds like it could be the description of a fancy car, but a sleeping baby — that's true luxury.
What's a better baby gift than a worry-free night out for the parents? Sittercity is one of the leading platforms for finding caregivers, with more than 1 million babysitters, nannies, pet sitters, tutors, house-sitters, and more. Of course, nobody said parents have to go out. Having a sitter watch the kid while they catch an uninterrupted nap in the next room is also perfectly reasonable.
House cleaning becomes simultaneously more important and difficult to do once there's a baby crawling around. (Or rolling, or just kind of laying there, as it were.) Handy simplifies finding and booking on-demand service professionals from handymen to house cleaners. Just make sure to book the latter when the baby is comfortably napping outside in the On-the-Go Baby Dome. Vacuums are loud.
Smart Connect™ Deluxe Soother
Babies love white noise because it brings them back to their days floating in the womb, surrounded by an ever-present aural sleepy fuzz. (Or, the scientific term, WHOOOOSHHHH.) This deluxe soother offers multiple light projection and sound options and, with a smart connected app, parents can create personalized bedtime routines. Plus, it sure beats the heck out of hunching over a crib shushing a confused infant to sleep.
S'well Bottle
Everyone knows proper hydration is just plain good. Among the many benefits: better sleep. So new parents would be wise to wield the best water bottle on the market. And since S'well keeps drinks cold for 24 hours or hot for 12, there's nothing stopping anyone from filling one with more than enough coffee to keep them going through even the most sleep-addled day.
OSTRICHPILLOW®
Is it ridiculous looking? Sure. Will new parents be glad to own one? Almost certainly. Because it's fluffy, portable, and helps opportunistic parents catch a few Zs whenever, and wherever, a rare moment for a nap presents itself. Or, when they've simply given up on caring what the world thinks. Here's a fun game: see which happens first.
This article was originally published on