Baby Change-N-Go Is A Portable Changing Table That Hangs On The Bathroom Stall Door
Never change your baby's diaper on the floor of a public bathroom again.
by Dave Baldwin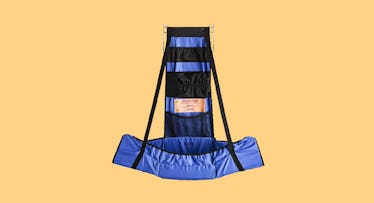 There's no need to remind you of how few men's restrooms are actually equipped with changing tables these days; you've swapped out enough diapers crouched on the bathroom floor to know not many. And since you're not particularly fond of putting your kid's head down next to a disgusting public toilet, there's the Baby Change-N-Go.
If you've ever seen pictures of rock climbers sleeping on the side of a mountain, just crazy dangling there in one of those portaledge tents, then you know exactly how it works. Essentially, the Baby Change-N-Go is a portable hammock-like changing station that hangs over the side of a door or bathroom stall to create a 34-inch long nylon basket in which your baby can rest securely (belted in) while you change their diaper and/or check the score of the game.
When open, there are 3 mesh/zip pockets to provide easy access to diapers, wipes, and extra clothes or shoes, and a quick wipe with a damp cloth is all the cleaning it needs. Even better, it folds up to about the "size of a magazine" (11×12-inches) and only weighs around 2.5 pounds, so it won't take up a lot of space in your diaper bag. The Baby Change-N-Go comes in one three colors — hot pink, royal blue, or charcoal gray — and is currently available for pre-order.
This article was originally published on