5 Excellent Baby Carriers and Backpacks For Parents on the Go
They're comfortable, safe, and excellent at helping you transport your child from A to B without any issue.
by Fatherly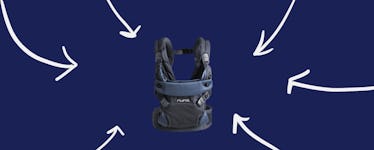 Not all baby carriers are created equal. This fact is obvious to any parent who's struggled again and again to attach ungainly clasps and belts, heard the cries of a child who managed to get tangled within the straps, threw their back out from an not-as-supportive-as-you-first-thought carrier, or unclipped the harness to reveal a massive, alien-like sweat stain on their shirt. A carrier is an important piece of baby gear — it will, after all, help you transport a child for as many as three years. The outstanding baby carriers below are all Fatherly Favorite selections because they're comfortable, safe, and excellent at helping you transport your child from A to B without any issue. Take a look. And happy trails.
The unique suspension system easily adjusts to accommodate both mom and dad, and the 5-point safety harness, aluminum roll cage, and generous padding make sure your precious cargo is safe, secure and snug. The adjustable foot straps will match your child's natural rest state, and the large, zippered pockets are perfect for storing whatever your adventure requires.
The breathable, weather-ready fabric, and temperature control panel also ensure that you and your child are as comfy as can be, whether you're enjoying a crisp fall stroll, or a warm summer day. There are six different positions you can choose from, all of which feature increased neck support and an adjustable seat, so can both enjoy the ride.
Instead of buckles, it uses magnet closures, making it super easy to get baby in and out. Use a front-carrying position for little ones, or switch it to your back to carry kids up to 3 years old. A padded waist strap offers back support for parents, while a zippered pocket lets you store your phone, keys, or other small items.
It has all the standard carry positions, including front and back, plus lumbar support for added comfort for the carrier. It's machine-washable, too.
For hiking, Thule built in a hydration reservoir sleeve, and a hip pocket big enough to stash your phone and sacks of Goldfish. Kid-focused features include a sunshade to keep your cargo cool, and a mirror to monitor your passenger's mood. The pack, along with spacious mesh pockets in the detachable day pack, has room for water, diapers, clothes, rain gear, and food for your whole party.
This article was originally published on