The Toddler Toothbrush That Turned the Tide of My Brushing Battle
Baby Buddy's 360-degree toothbrush does half the work for you.
by Dave Baldwin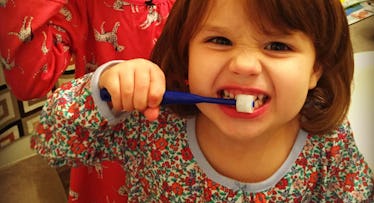 They yell. They run away. They squirm. They go limp. They lock their jaws shut. Spend five minutes wrestling in a futile attempt at toddler teeth brushing, and you realize they'll do anything to escape your clutches. There's a reason nobody ever hears a dad at the playground rave about how his small child looooooves his or her toddler toothbrush. It doesn't happen. Such children don't exist.
Well, if they do, they don't live in my house. My 2-year-old daughter is still learning to like brushing, and it's taken a while to get to that point. Brushies, those clever finger puppet toothbrush characters with their own storybook, helped. At 18 months, she loved them. Actually, she still loves playing with them, she just doesn't love using them for their intended purpose. Distracting her with books, turning brushing into a battle against "germ bugs," and introducing toothpaste have all made her more amenable to flashing us those pearly white chompers. But as is the case with toddlers and their fishbowl memories, every day is a new adventure. Which is why I'm convinced there's one no-brainer baby product every parent should use: a 360-degree toothbrush.
Prior to last year's ABC Baby Expo, I didn't know these brushes existed. They're sold by a Georgia-based company, Baby Buddy, and "co-developed with Osaka University Dental Clinic." Which could be amazing or could be nothing ⏤ I stopped following the rankings of Japanese dental clinics years ago. The toothbrush itself, though, just looks like a smart idea. The entire top is encircled with more than 10,000 extra-soft, micro fine bristles, and the company claims it "removes twice as much plaque as conventional, one-sided toothbrushes." It comes in six different models to fit kids ages 0 to 12 years old and can be used with just water. There's even an adult version for expecting moms with sensitive teeth/gums.
So why it so useful? My argument boils down to this: If brushing your toddler's teeth is inevitably going to be a struggle, why not let the brush do some of the work? Literally, just by putting the 360 toothbrush in her mouth, something is getting cleaned. It's impossible for it not to work. You can't screw it up, really. When she spins it, it cleans. When she bites, it cleans. When she moves it around aimlessly, it still cleans. If one of the goals of baby products is to make life easier for parents, what's easier than that?
Now, I'd be remiss if I didn't mention a couple of negatives, namely when it wears out, it wears out. It looks rough. Like, much dirtier than any ordinary toothbrush. They recommend replacing the brush every three to four months. Some customers have also complained of bristles coming loose, although we haven't experienced that problem. But the biggest impediment has to be the cost: At $10 a pop on Amazon (and that's below an MSPR of $14 on the company's site), they ain't cheap.
That said, if money's not an issue then the 360 makes total sense. Does my daughter all of a sudden love brushing? No. Does she floss every night? No, although she did try to swallow a piece of floss once. And while, yes, you do still have to actually brush your kid's teeth, there's just something to be said for expending less effort doing so. Especially when you need that energy to chase them down in the first place.
This article was originally published on