The Best Baby Gyms and Baby Activity Centers
Give their creativity a workout.
by Donna Freydkin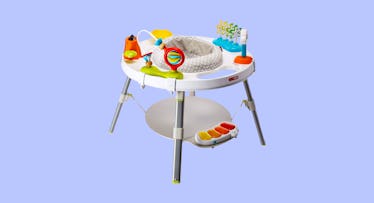 If you're going to invest in one major toy for your baby, a baby activity center or activity gym is the way to go. Otherwise known as a toddler activity center, these things are essentially saucers where babies six months and older can sit, play with toys, admire themselves in mirrors, and generally, experience their first sense of freedom.
There are a few things to keep in mind when choosing a baby activity center. Make sure it's stable and won't tip over, ever, especially if you have a very active child. Opt for activity centers with removable toys that you can rotate out to keep your child engaged. You'll thank yourself later for choosing an activity center with a seat that's easy to clean and small enough to not take over your whole living room. If you're sensitive to repetitive annoying sounds — too late! (We kid) It's unlikely you'll get through parenthood unscathed by kiddie music, but there are certain baby activity centers that are quieter and less obnoxious.
Every product on Fatherly is independently selected by our editors, writers, and experts. If you click a link on our site and buy something, we may earn an affiliate commission.
This article was originally published on