The Best Marvel and 'Avengers' Toys for Superhero-Obsessed Kids
Repulsor gloves for everyone.
by Donna Freydkin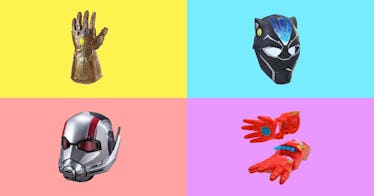 Kids have dreamt about becoming superheroes since their nascent days in the pages of comic books. Now, kids' fantasies are strictly tied to to the Marvel Cinematic Universe in which their favorite heroes and villains, most notably the Avengers, battle it out every year in the franchise's constant stream of star-studded films. The MCU has only become more ubiquitous over the last few years, ushering in a whole new superhero-addicted generation, one whose obsessions are continuing to be sated with new adaptations. The best Avengers toys pay tribute to the franchises, and let kids pretend to be superheroes.
But aside from the movies, Marvel and Avengers toys – that your kid can play with, and also use to transform themselves into their favorite heroes and villains – may be the most exciting aspect for children. There's countless options out there, though. Here are the best, most realistic Marvel toys to transform your kid (and you!) into your favorite Avengers and Marvel characters, from Iron Man and Captain Marvel, to The Hulk and Thor.
Every product on Fatherly is independently selected by our editors, writers, and experts. If you click a link on our site and buy something, we may earn an affiliate commission.