The 8 Best Augmented Reality Apps For Kids
Hold an animal in your hand! Transform your home into a virtual speedway!
by Tom Samiljan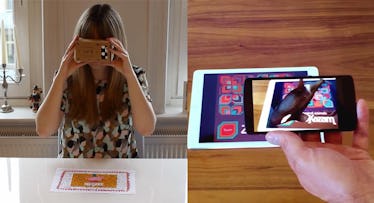 Apps that only let kids scroll and swipe? Old news. The new hotness: Augmented Reality (AR). You likely know the tech, which overlays virtual content onto the real world, from Pokémon Go. Since capturing Squirtles and Spearows for battle is over with (and, frankly, pretty messed up), here's an iOS and Android collection of the best augmented reality apps for kids apps that educate — or simply enhance normal play — through the power of AR. Some bring constellations to life; others transform your entire home a virtual speedway; all have the firepower to teach and entertain modern kids.
Toy Car RC
Part race course, part 3D platform game, this augmented reality remote control car adventure lets kids drive around surreal Candy Land and Wild West environments that render themselves on any surface in your home (you just need to print out some paper). It's all the fun of driving a remote control car without any of the chipped chair legs or burn-out marks that come with setting up a real-life track.
Ages: 4+
Star Walk Kids
Consider your kid a tiny Neil deGrasse Tyson? Stick this augmented reality app on your home screen. When you point your phone or tablet's camera towards the night sky, it pulls up kid-friendly images and explanations of exactly what's happening. Focus on, say, Ursa Minor and an illustrated bear appears over the constellation, along with a educational description. Planets and the earth horizons below are equally Looney Toons-ey.
Ages 4+
Zookazam
Featuring everything from pandas and parrots to rhinos and velociraptors, this augmented reality app presents kids with a 3D rendering of more than 40 animals that, through the magic of AR, appear anywhere you aim your phone. Stats show up with each animal (average size, lifespan, habitat, etc.) so kids can absorb some good 'ole facts as they play God with their own personal menagerie.
Ages: 5+
CyberChase Shape Quest
Disguised as a fun game to help various animals return to their homes, CyberChase is actually an augmented reality learning tool designed by PBS to help kids understand shapes, spatial awareness, and logic puzzles. Even better: Thanks to AR, which projects the game board in the real world, kids need to actually walk around to complete various tasks instead of sitting on their lazy rumps. Your move, Tetris.
Ages: 4+
Holotats
Temporary tattoos are fun and all but once they're applied they just kind of… sit there. The tats included in this set are different. Apply one to an arm or leg (or forehead if they're feeling freaky), pull up the included app, focus your phone's camera on it, and the design will come to life. If it's a frog, it'll ribbit and hop around your kid's arm; if it's a bear it'll do, well, bear-y things. Let's see your buddy's goofy fraternity ink do that.
Ages: 4+
$9 per pack; app is free (iOS) (Android)
Quiver
The printable scenes of dragons, planes, birds, and sheep provided by this app look like ordinary coloring pages. And, well, they are. But once your kids color them in (or, more likely, murder them with crayon) and put the finished pages in view of a phone or tablet's camera, the colored creations come to life (watch the fish swim! see the bugs crawl!) Worry not: you can still hang the finished product on the fridge when they're done.
Ages: 3+
AR Flashcards
Yeah, you could teach your kids their ABCs the old-fashioned way with songs and rhymes. Or, you can blow their tiny brains by enlisting the help of these futuristic flash cards. Print out the set and arrange them on a table. Then, have the kids point their phones at a letter. As they look at each card they'll be greeted with an interactive animal (i.e. a bear will bust a move when "B" is activated) to help them learn. If only they had these for AP Chem.
Ages: 3+
Peronio
You might be renowned in all 5 counties for your bedtime story character voices, but this interactive pop-up book brings a little more to the table. The tale follows a boy named Max on an adventure. Through the magic of augmented reality, the pages of Max's story explode into 3D renderings that appear in real lifet to be swiped and explored. Interactive games await on each page, too, and must be completed for readers to progress the story.
Ages: 4+
This article was originally published on