5 Reasons Ashwagandha Will Have You Tapping 'Add to Cart' to Manage Stress
The Ayurvedic herb is having a heyday. Here's what you need to know.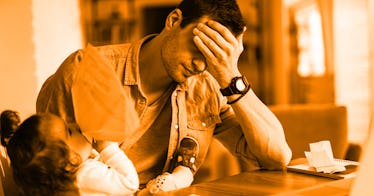 The following first appeared on Scary Mommy and was produced in partnership with Stressballs, herbal supplements that contain ashwagandha to help you stress less and live more.
Try this little experiment next time you're having Zoom happy hour with your favorite moms: Ask them how they're handling stress lately. After the laughter dies down, tell the ladies how you've found a great new way to stress less – with ashwagandha.
Ashwa-who?
Okay, maybe the word doesn't roll off the tongue so easily, but once you learn how this powerful herb can help manage your stress levels,* you'll be working this herb into your daily life as quickly as possible.
Ashwagandha is a type of plant called an adaptogen. Adaptogens are thought to help the body adapt to stress and to promote or restore normal bodily functioning. It's been used in Ayurvedic medicine for millennia. Yep. For thousands of years, it's been used by people who want to better manage stress in their lives. That's…literally all of us, right? Stressed-out moms, meet your new best friend.
Here are 5 reasons you're gonna want to click "add to cart" right now.
These Kids Aren't Gonna Raise Themselves
Sigh. It's just a fact that no matter how free you want to let your kids range, you're still the one running this ranch. And even if you're more of a "scheduled within an inch of our lives" kind of mom, parenting challenges don't happen on a schedule. Last time I checked, kids don't really respond all that well when you tell them you need five minutes to meditate. Ashwagandha can help you retain the focus you need to handle all this *gestures broadly at everything.*
Spa Treatments? Not An Option At The Moment
As much as we love the idea of spending the day in a fluffy robe, sipping cucumber water to the sweet sounds of Enya, for most of us, it ain't happenin'. At least not any time soon. And let's be honest, the relaxation lasts about as long as the drive home. You need something a little more accessible as your go-to de-stress helper. Stressballs De-Stress & Relax contains clinical levels of ashwagandha and comes in a super convenient gummy form. Relaxation: achieved. Enya: optional.
You Deserve To Thrive
As moms, we get a lot of practice accepting things as they are. But maybe sometimes we're too good at accepting stress as just part of life? Yes, some days getting by is the best we can do. And that's ok. But actually crushing your day? It's an amaaazing feeling. Thriving (not just surviving) as a whole human being feels so good. So anything we can do to live our best lives, let's do it – whether it's eating right, exercising, or adding an ancient herbal supplement to our days.
You Really Need To Sleep. No, Really.
Everyone knows sleep is an absolute necessity for survival, right? Someone tell that to my brain at exactly 3:02 AM every single night. It can be really tough to put the stresses of the day behind you so that you can fall asleep and stay asleep. Stressballs De-Stress & Snooze helps you de-stress* with ashwagandha, and helps you sleep soundly* with an optimal dose of melatonin.And when you sleep well, you can create a cool cycle where you're less stressed during the day so that you can sleep at night.
It Actually Works
When something has been used for thousands of years, it's worth considering, right? (See: the wheel.) Ashwagandha has been used in Ayurvedic medicine for millennia. It's been used as a rejuvenating herb because it appears to lower cortisol, the "stress hormone" produced in your adrenal glands. But the Ashwagandha used in Stressballs has also been studied in a randomized, double-blind, placebo-controlled human clinical trial. It's been found to support health benefits including reduced stress, improved mood, and better sleep.* Science is real, y'all.
See why ashwagandha is your new best friend? The best part is that you can get all the benefits of this ancient problem-solver without adding "tromp through forest finding herbs" to your list. (Do we not have enough crafts and science projects going at the moment??) The ashwagandha in Stressballs is clinical-strength and sourced from the roots and leaves of the plant, so it contains 3 concentrated bioactives. And you can get it all in a convenient gummy. Adding Stressballs to your cart will help you de-stress way more effectively than that "live love laugh" pillow you're eyeing. Trust us.
Stressballs are drug-free, habit-free, gluten-free herbal supplements that contain ashwagandha to help you stress less and live more. Learn more and shop here.
*This statement has not been evaluated by the Food and Drug Administration. This product is not intended to diagnose, treat, cure, or prevent any disease.