Apple's New iPad 9.7 For Students Finally Works With The Apple Pencil
Because who would have thought students needed to take notes.
by Dave Baldwin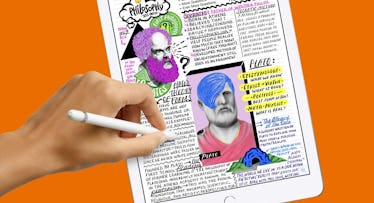 It wasn't that long ago that tech companies promised a day when every kid in school had their own tablet. Students would learn on screen. Textbooks would be a thing of the past. Backpacks would get a ton lighter. And while we're not there quite yet, the march continues. This week, Apple did the high-stepping as it unveiled its latest 9.7-inch version of the iPad for students.
The new iPad is not at all new — just refreshed. It looks and works exactly like the previous model, and like any non-student iPad sold in the Apple store. It's got Touch ID (no facial recognition, just yet), 32GB of memory, front and rear 8MP cameras with HD video, and weighs a hair more than one pound. It's available in gray, silver, and gold, and the battery lasts a nice 10 hours. The big missing feature remains a smart connector ⏤ there's only a single Lighting port ⏤ and a Bluetooth keyboard is required if kids plan to use to do much writing. Which one would assume they need to do. Logitech, as it turns out, is busy designing a rugged keyboard case for the 9.7 that will run about $100.
There are, however, two noteworthy changes. First, it boasts a new A10 Fusion Chip so the processor is speedier. And second, it now has support for the Apple Pencil, which was weirdly only available on the iPad Pro series prior to now. (Because why would students want to write things down?). Clearly, Apple recognized the flaw in their 'student' tablet and now kids can take full advantage of the software to draw, take notes, and create presentations. Only catch, of course, is that the Apple Pencil is not included. It costs $99 and is sold separately. So, now for pencil and keyboard, you're tacking on $200 and you can start to see why the Google Chromebooks are so popular with students, or at least, their parents.
Students (and educators) do get a couple of added bonuses though: 200GB iCloud storage for free, and a $30 discount. The new iPad 9.7 will run $299 for students and $329 for everybody who no longer carries an old student ID in their wallet. It arrives in stores next week but can be ordered online now.