Apple Keynote 2018: 4 Big Things You Need to Know
New versions of the iPhone and Apple Watch will be bigger and faster, but Apple is also making an effort to capture more budget-minded consumers.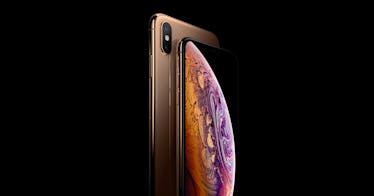 At Apple's keynote, the technorati gathered in the Steve Jobs Theater this morning (afternoon here on the east coast) to hear from Tim Cook, other Apple employees, developers and Steve Nash (yeah, that Steve Nash) about what's been in the works at Cupertino. As brand new products like last year's iPhone X typically are usually released biannually, this year's keynote brought mostly incremental updates. Here are the four things you need to know if you weren't able to watch the world's most popular PowerPoint (sorry, Keynote) presentation.
Apple Watch Series 4: Bigger and Healthier Than Ever
The new version of the Apple Watch will come in 40 and 44 mm sizes, a bump from the current 38 and 42 mm. Smaller bezels will surround the new OLED screen, the end result is more than 30 percent more screen real estate.
The device's health features are also getting a bump. The new electrocardiograph sensor promises more accurate heart rate readings than the optical sensors used in previous Apple Watches and most fitness trackers. There's also a new gyroscope and accelerometer that promise more accurate exercise tracking and fall detection, a new feature.
The GPS-only version of the watch starts at $399; add cellular, and it's $499. It will be available to order on Friday for shipping September 21.
Top-of-the-line iPhones Get Incremental Improvements
Apple tends to alternate between years with dramatic changes and those with more gradual ones. This year is one of the latter, a so-called "S" year. The iPhone Xs features a brighter screen, improved speakers, a dual camera system, dual SIM capability and improved battery life, all powered by its new A12 bionic chip. They are also promising an extra half hour of battery life in the Xs.
But there's also a new iPhone, the Xs Max. As its name suggests, it's massive, with a 6.5-inch screen, the biggest ever in an iPhone. Thanks to shrunken bezels, however, its actually about the same size in your hand as last year's iPhone 8.
The Xs starts at $999 and the Xs Max at $1,099. They will be available for pre-order on Friday and, like the new Apple Watch, will ship a week later.
iPhone XR: New, Cheaper, More Colorful
The main difference between the XR and the Xs is its screen. Instead of the high-end OLED on the Xs, the XR packs an LCD display. They're calling it the "most advanced LCD display," but it still won't be as sharp or colorful.
But don't worry, there's plenty of color on the back of the phone. It will come in black and white–yawn–but also red, yellow, blue and coral. As it did with the iPod mini and iPhone 5C, Apple is choosing to keep its flagship devices monochrome and its cheaper options more fun.
The XR will cost $749, a far sight better than the Xs models but still not what we would call "cheap." For those in the market for more affordable options, the iPhone 7 and iPhone 8 will continue to be available, with prices starting at $449 and $599 respectively.
Apple is Betting Big on Augmented Reality
The only non-Apple employees to take the stage today were representatives of companies showing off their implementation of ARKit 2, Apple's newest software developer toolkit. Bethesda Games introduced a new Elder Scrolls game called BLADES and Directive Games showed off an AR version of the arcade classic Galaga.
Between them, Steve Nash (yes, that Steve Nash) promoted HomeCourt, an app that films your basketball practices and automatically collects stats as simple as shooting percentage and as complicated as leg angle when shooting.
But the best use of the new AR capabilities may be Apple's brand-new Measure app, which tells you the dimension of objects you point your camera at.
This article was originally published on