Anki Overdrive's Fast and Furious Cars Look Incredible
The updated version of the AR race track lets you battle the Toretto family in either Dom's Charger or Hobbs' MXT.
by Dave Baldwin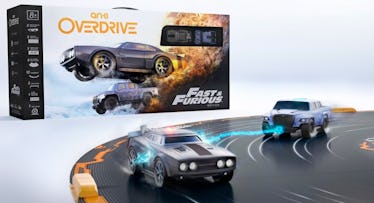 As if Anki Overdrive, battling robot race cars, weren't fast or furious enough, the company's unleashing an officially licensed Fast & Furious special edition set in September. And the new toy cars ⏤ Dom's Ice Charger and Hobbs' MXT ⏤ look frickin' incredible.
RELATED: The 11 Best Toy Robots That Teach Kids Coding And STEM Skills
For the uninitiated, Anki makes remote-controlled cars and trucks with artificial intelligence. Racers use their smartphones to steer them around a magnetic track while doing virtual battle (using customized weapons) within a video game on the app. Fire a missile on the screen, watch the real-life car come to a screeching halt.
Anki Overdrive: Fast & Furious Edition brings the franchise's cars, characters (Dom, Hobbs, Letty, and Ludicrous), voices, and storylines to the track. The Rock's iconic blue camo International MXT is armor-plated and comes with a sick rocket launcher to clear its path. Dom's speedy gunmetal Ice Charger, meanwhile, rocks a grappling hook to snag and slow opposing cars. A new free Fast & Furious game app and branded track (that can build 8 configurations) are included. And while the Fast & Furious edition will be sold as a stand-alone game for $170, it's fully compatible with other Anki Overdrive cars and sets. Pre-order starts May 16.