American Girl's 2018 Girl of the Year Is an Astronaut
Luciana is here and she wants to make her mark on Mars.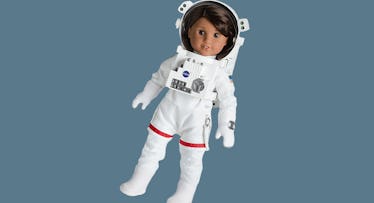 More than 40 American women have gone to space since American Girl released its first doll in 1986, yet there's never been an astronaut version of the iconic doll. That changed on Monday when Mattel launched its 2018 Girl of the Year, Luciana Vega, an 11-year-old aspiring space traveler who wants to be the first person, ummmm doll, to walk on Mars.
Science-obsessed and all about the STEM, Luciana is a "natural-born" leader of Chilean descent who the company (and NASA) hopes will inspire young girls to get excited about space and science. In fact, to ensure her character is as accurate as possible, Mattel partnered with NASA (including female astronaut Megan McArthur Behnken) and even sent doll designers to Johnson Space Center in Houston. According to her backstory, which is detailed in two chapter books from Scholastic, she attended Space Camp in Huntsville, Alabama, on scholarship.
RELATED: The Best Action Figures and Dolls For Kids This Holiday
The 18-inch Amerian Girl doll comes wearing a galaxy dress and sells for $115. There are, however, a ton of cool accessories sold separately, including both space and flight suits, a telescope, and Mars Habitat/Space Station.