Amazon is Having a Huge Play-Doh Sale Today. Here are 4 Sets to Buy.
The National Toy Hall of Fame inductee is just as fun now as when you were a kid, and it still has that great smell. Pick some up on Amazon today.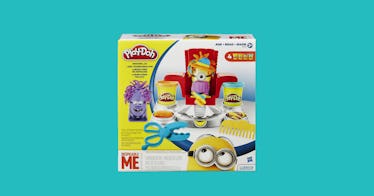 We probably don't need to sell you on Play-Doh. Its trademarked smell probably brings back memories from your own childhood, and your kids probably love its soft, pliable texture. Whether you want to introduce your kids to the magic of Play-Doh or add more colors and tools to your collection, today's the day to do so. Amazon is having a huge deal on the art supply sets, everything from multipacks to toolkits to themed playsets. Here are four of the very best items from the sale.
Play-Doh Modeling Compound 36-Pack Case of Colors
If your kid loves Play-Doh, this rainbow assortment is a great purchase. Because, let's face it, Play-Doh tends to disappear — or dry out — quickly. This set comes with 36 different three-ounce cans. The included colors run the gamut from classics like blue and black to more outré options like lime green and lavender. Save 34 percent off the list price when you pick it up today.
Play-Doh Fun Factory Deluxe Set
This set comes with cans of Play-Doh and tools that help kids express their creativity. There are stencils in polygon and animal shapes, a plastic slicer for precise (yet safe) cuts, a roller to imprint different patterns and an extruder that lets kids create uniform strands of different thicknesses, from angel hair to soba. Normally $22, you can pick up this set for just a hair over eight bucks today.
Play-Doh Play-Date Party Crate
As its name suggests, this set is a great option if you have a few kids who want to play at the same time. It comes with 10 three-ounce cans and a mat that kids can use as a work surface. It also includes a ton of tools, from stencils to slicers to something that resembles a Play-Doh garlic press. There are even duplicates so kids don't have to wait around if they need a tool that is already in use. Grab this set at a $7 discount today.
Play-Doh Disguise Lab Featuring Despicable Me Minions
Beyond free, creative play, one of the classic applications of Play-Doh is the barbershop, in which the compound is pushed through holes to form "hair" that kids can cut and style as they please. This version incorporates the ever-popular Minions from the Despicable Me franchise and comes with four cans of Play-Doh, two Minions, scissors, a comb and a barber chair base. If you buy it today you'll save 31 percent off the normal price of this branded set.
This article was originally published on