There's a Big Amazon Sale on Nerf Guns and Ammo Today
A wide variety of blasters and darts are on discounted.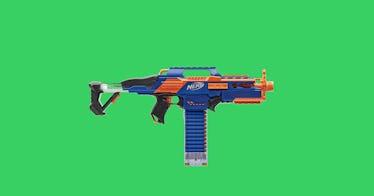 Every day, the Internet is teeming with deals, sales, discounts, and savings. But, as the Internet is a big, distracting place, said deals can be difficult to find. Plus, you don't have time to sniff 'em all out. You have work and kids and a total of 25 minutes of free time that shouldn't be spent looking for discounts. So, to help you out, we'll be combing through the daily offerings and rounding up the deals we like, and think you might find useful. Today: Amazon is discounting a ton of Nerf guns and dart refills. It's the perfect opportunity to build your own foam arsenal and snag a few early Christmas presents for your kids.
Nerf N-Strike Elite Disruptor
It's not the biggest or most powerful Nerf weapon, but the Disruptor still offers solid bang for your buck with a 6-dart rotating gun and can fire darts up to 90 feet away. It also has a Slam Fire mode that lets you hold the trigger down and pull back the slide to keep firing quickly. At $11 today, it's a worthy first blaster or auxiliary weapon for the serious fan.
Nerf N-Strike Elite Infinus
We've featured this gun before because it's the first Nerf blaster with Speed-Load technology. Basically, it allows you to easily and quickly slide darts into the top of the weapon in lieu of dismantnerling the thing in order to reload. They are sucked into the firing drum automatically, ready to vanquish your opponents. The drum holds 30 darts even without reloading, so this is a great weapon for longer battles. It's 20 percent cheaper than usual today.
Nerf Modulus Regulator
The Modulus Regulator might just be the most flexible Nerf gun out there. With the flip of a switch, this battery-powered blaster changes between single-fire, burst-fire and continuous fire modes. Prop it up like a rifle and use the scope or flip up the swivel handle and blast away with it at your waist. All that will normally run you $60, but you can score a Modulus Regulator for just $40 as part of this sale.
Nerf N-Strike Elite AccuStrike RaptorStrike
This blaster is great for the marksman in your life. It's bolt-action mechanism gives a little bit of kick. You can use Nerf Elite darts with this blaster, but it comes with AccuStrike series darts that are designed for greater accuracy. The extendable bipod and pop-up sight make this the perfect weapon for target practice, and it's 20 percent off its usual price today.
Nerf N-Strike Elite Rapidstrike CS-18 Blaster
The most noticeable feature of this blaster is its long, protruding clip that holds 18 darts. It's transparent so you'll always know how much ammo you have left. Four C batteries power a motor that shoots darts up to 75 feet at a rate of 3.2 darts per second. Buy this blaster at a $10 discount and you'll be overwhelming your opponents in no time.
Nerf Official N-Strike Elite AccuStrike Series 24-Dart Refill Pack
Amazon is also slashing prices on Nerf darts like this 24-pack that's compatible with Nerf Elite, Elite AccuStrike and most N-Strike blasters. Double check to make sure these are right for you and then pounce: at 60 percent off, it's unlikely you'll find a deal this good any time soon.
Nerf Official N-Strike Elite Series 30-Dart Refill
This 30-pack of ammo works with Nerf Elite blasters and most N-Strike blasters. It's not as steep of a discount as the AccuStrike darts, but 30 darts for $7 is still a great deal if your blaster is compatible with these.
This article was originally published on