Amazon Sales Show Robot Toy Boom
The retail revolution is being aided by toy robots.
by James Wohr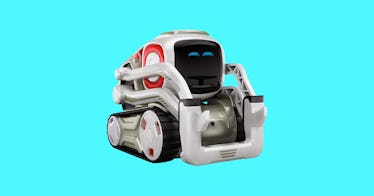 If robots do end up taking over the world, we'll have Amazon to blame. Last year, the online retail giant's robot toy sales saw an increase of 40 percent, per the site One-Click Retail, reaching an excess of over $25 million. From 2015 to 2016, innovative new toys have given Amazon products a lead in the burgeoning robotic toy market.
Specifically, a few key heavy-hitters have secured robotics as Amazon's most lucrative toy category. Cozmo, a Wall-E-like STEM-skill building smart robot for kids, brought in $15 million alone and was the undisputed toy of the year for 2016, while EV3, another intelligent robot, generated $6 million, earning the number four spot on the best sellers list. Anki, Cozmo's developer, also took second place with Overdrive, it's intelligent racing game.
RELATED: The 11 Best Toy Robots That Teach Kids Coding And STEM Skills
Though many of the top products incorporate smart technology, "robotics" doesn't necessarily refer to AI. The robotics toy category often refers to digital interactions away from a screen and spans such sub-categories as vehicles, learning and exploration, programming and coding, STEM toys, boys role-play, and drones. Success in each category helped launch robotics as a whole, into the top 25 toy categories of 2016. Still, genuine AI and STEM-skill building remain the most successful aspect of the category, with several of the top 10 toys incorporating intelligent technology.
Amazon currently owns 16 percent of the consumer electronics market, which is estimated to be worth $74 billion total. And, in addition to robotics, the success of Lex, the technology that powers Alexa, has enabled the company to become major player in the virtual assistant market as well. As many other consumer electronics brands struggle — even those that were forecasted to be game changers — Amazon seems capable of overtaking them. Who knows what brand will emerge to take on the giant, but one things for certain: robots will be involved.
This article was originally published on