You're Doing Prime Day All Wrong. Just Buy This.
It's not sorcery, but it's pretty close.
by Sal Vaglica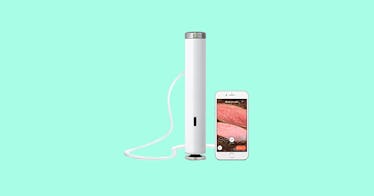 Perhaps you're among the millions who started messing around with slow cookers and pressure cookers during the pandemic. Like those stalwart kitchen companions, the sous vide immersion circulator gives you the freedom to make a delicious dinner without having to babysit it. Even better, a sous vide machine has the versatility to help you make a killer steak for one or a barbecue brisket for 12. The Breville Joule is just about the best one out there — and today's the day to grab it.
The Joule is about half the size of most sous vide models so it tucks right into a kitchen drawer for easy use. You control it all from a smartphone app, whether you're in the kitchen or across town at the supermarket. Tiny, powerful and roughly the size of can of White Claw, the sous vide can heat up water fast in whatever vessel you're using: pasta pot, Dutch oven, or plastic tub.
Once a technique reserved for commercial kitchens, sous vide machines are finding their way into more homes through versions built for the home cook. That means performance with ease of use. For the uninitiated, these electric sticks push water around a pot or vessel at a precisely controlled temperature while your raw food gets cooked in a plastic, zip-top bag. Sous vide can hold food to within a few degrees for hours, waiting for you to get done with work, chores, or a day at the beach. Once you pluck out the bag, you'll usually want to finish proteins with a hot sear in a pan or on the grill.
That kind of precision is helpful with steak, especially pricey cuts that can spoil fast on the high heat of a grill. Or with larger, tougher cuts like a brisket that need to be held at a temperature for hours at a time to break down connective tissue. By the way: Cooking in supermarket zip-top bags is not only safe, but it also makes spending for a pricey vacuum sealer unnecessary.
Every product on Fatherly is independently selected by our editors, writers, and experts. If you click a link on our site and buy something, we may earn an affiliate commission.