Amazon Just Made it Super Easy to Donate to Goodwill
The company will pay for you to ship old baby gear to charity.
by Dave Baldwin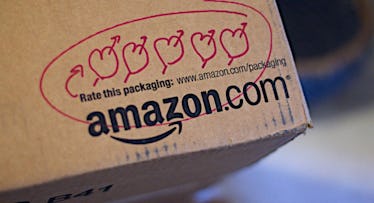 <a href="https://www.flickr.com/photos/cogdog/4460888851/" target="_blank"> flickr / Alan Levine </a>
A cross between a Toys 'R' Us and an Amazon Fulfillment Center: If there's a new baby around, that's probably what your garage, basement, or living room looks like. Empty boxes, outgrown clothes, unused toys piled everywhere. As much as the online retailer is to partially to blame (damn you, free shipping), the company can help with spring cleaning and give other new parents much-needed baby gear in the process. Amazon recently joined forces with Goodwill and Give Back Box, a non-profit that coordinates charitable donations through the mail, to make decluttering easy. Simply fill empty Amazon boxes with old 6M onesies (or other "usable clothing, accessories and household goods"), print a shipping label, and drop it by your front door. That's it. Oh, you can also print up a tax deduction receipt if your accountant is a nag. Amazon covers the UPS/USPS shipping costs, and all the boxes will be delivered to your closest Goodwill location.
And the best part of all (well, after knowing your baby's old clothes are going to good use) is that your car can finally go back in the garage.
RELATED: The Best Car Seats Under $100 on Amazon