Amazon Has a Big Sale on Fingerlings, Giant Stuffed Animals, & More Toys Today
If you're tracking down toys for someone's holiday list, now's a good time to strike.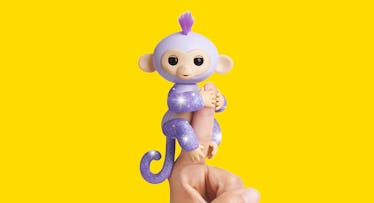 Every day, the Internet is teeming with deals, sales, discounts, and savings. But, as the Internet is a big, distracting place, said deals can be difficult to find. Plus, you don't have time to sniff 'em all out. You have work and kids and a total of 25 minutes of free time that shouldn't be spent looking for discounts. So, to help you out, we'll be combing through the daily offerings and rounding up the deals we like, and think you might find useful. Today, we're focusing on Amazon's big sale on toys, including ever-popular Fingerlings, Melissa & Doug giant stuffed animals, and Teddy Ruxpin as well as toys inspired by Dr. Seuss and Sesame Street.
Fingerlings Glitter
What they lack in cuddliness, they make up for in sparkles. The glittery versions of the holiday favorite miniature interactive pet are over half off.
Melissa & Doug Tiger Plush
This Siberian tiger plush is incredibly soft and incredibly detailed, but it's biggest asset is its size. This thing is six feet long, a factor that elevates it beyond a simple stuffed animal to the most huggable toy you can buy. It normally $80, but you can get one for just $37 today.
The Grinch
Just in time for Christmas (and yet another film adaptation), grab your kids a plush figure from the holiday classic. In addition to Max the dog, the titular character is also available, complete with removable Santa suit and the ability to play the instrumental version of "You're a Mean One, Mr. Grinch." It's 35 percent off its normal price as part of the sale.
Teddy Ruxpin
The reboot of the classic '90s toy swaps out specialized cassette tapes for Bluetooth connectivity and a companion app, but it still reads stories to kids. With animatronic features and color-changing eyes, Teddy is the smartest bear we know, and he's nearly 60 percent off today.
Playskool Friends Bean Bag Buddies Elmo
As one of Sesame Street's most popular residents, Elmo toys are usually a pretty safe bet, gift-wise. This one is just five inches tall, so it's easy to small hands to grasp, and it's 30 percent off today.