Amazon Just Made Teleconferencing Equipment a Home Appliance
Amazon's newest Echo device, Echo Show, has a screen with tele- and videoconferencing features to make it easier for families to stay connected.
by Bex Frankeberger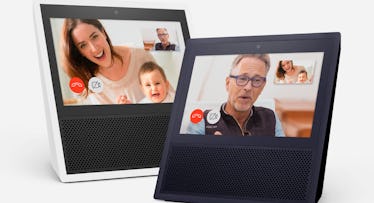 Amazon just dropped its next piece of Alexa-enabled hardware, the Echo Show, which has the same functionalities as Amazon Echo (plays music, sets alarms, facilitates pizza orders) plus a seven-inch screen. The display is perfect for calling up recipes, broadcast music videos, and showing weather reports, but the real use case–the one Jeff Bezos was clearly considering–is video calls. Anyone with the Alexa app can use the $300 Echo Show to start or join a conference. No small wonder that Amazon is marketing this latest "next big thing" to families: the company is doing what it's best at, making extant technologies cheap, hyperconvenient, and, not too long after that, ubiquitous.
Video chat and teleconferencing has been around since the early nineties, but the Echo Show promises to make it far more convenient using a "Drop In" feature that lets designated friends and family make video connections at any time. Amazon advertises that particular feature as a way to check in on elderly family members. The person calling appears on the Echo Show in a small window. The person receiving the call has a ten-second period to either reject the call or switch it to audio-only. No set-up is required. No Google Hangout link needs to be patched through. A well-placed Echo Show will never even have to be moved.
RELATED: The 5 Best Smart Grills And Smokers That Don't Need Babying
Echo Show is more notable for solving demographic and social problems than for providing a technological solution. The product arrives at a time when fewer family members live together. More than 40 percent of homes housed nuclear families in 1970. As of 2015, less than 20 percent house nuclear families. This is a product, as the marketing materials make clear, for people to talk to their parents and for parents to show off their babies to grandparents. Given the massive popularity of Alexa with grandparents, the marketing push is as savvy as the product development.
As of January, around eight million people owned an Echo. That's a nine hundred percent increase from the year prior. If families take advantage of Echo Show, and the Echo Show's video chat features, the number of Alexa-enabled devices could jump even more dramatically. Given the relatively low price of the Echo Show, it's likely to go everywhere quickly. And, when it does, it will cease to a gadget. It will be an appliance, a must-have for American families.
This article was originally published on