Amazon Is Selling Master & Dynamic's Excellent Headphones for Half Off Today
These headphones are excellent.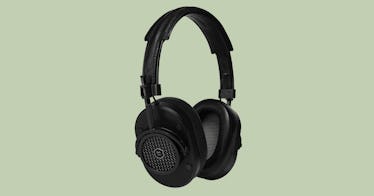 Amazon is offering a huge discount on Master & Dynamic MH40 over-ear headphones today, a markdown even better than the one we saw a couple of months ago. The high-end headphones are more than 50 percent off, bringing the price all the way down to $187.
One might say that everything about these headphones screams luxury. But it's more accurate to describe them as having a understated confidence. They're well-built and durable, with a lightweight aluminum bolstered by stainless steel reinforcements. The headband and (removable) earpads are made of a lambskin leather-wrapped memory foam that treats your ears right.
That foam-leather combination also means you can wear these things for hours without discomfort. The sound quality means that you'll want to. The earpads fit comfortable over your ears, isolating you from outside noise, while the finely-tuned 45 mm Neodymium drivers do justice to podcasts, audiobooks, and music
Accessory-wise, the headphones come with a pair of detachable cables — a two-meter-long standard option and a 1.25-meter version with an iPhone-compatible remote and microphone. Take it all with you in the leather cable box and canvas case.
In short, the MH40 are high-end, excellently engineered headphones that are well worth the standard price of $399. To be able to snag them for $187 is one hell of a bargain.
This article was originally published on