This Crazy Allwood Backyard House Is Sold on Amazon, Can Be Built in a Day
It can be built in eight hours and actually looks pretty great.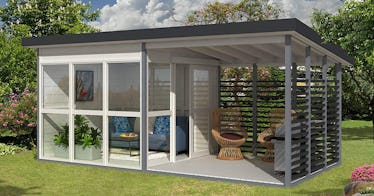 Amazon can already send you anything you might want for your house or the folks living in it. Now, it will send you a backyard house to fill with stuff as well. The Allwood Solvalla Garden House is a bit small to live in full time, but if you have 172 square feet of empty outdoor space in your backyard it would make a great backyard guest house, playhouse, pool house, or (behind your) home office. Fine, you can call it a "man cave" or "she shed" if you'd like.
See more: You Can Finally Get the Backyard Sauna of Your Dreams
The Solvalla has a sloped roof that's eight feet, eight inches in the front and six-and-a-half feet in the rear. It's a little more than nine feet deep and 18 feet wide and is split into two sections. One section has solid walls on two sides and floor-to-ceiling windows in the front; the other has slatted walls and is open in the front to form an outdoor space.
The two identically-sized spaces are separated by a window and sliding door. Cleverly, owners are free to choose which you'd like on the left and which you'd like on the right when setting up the shed. Speaking of setup, Allwood estimates that it takes two adults about eight hours to assemble the structure.
The entire building is, of course, weather poof. The frame is made out of Nordic wood. The floorboards and roof/ceiling boards are three-quarters of an inch thick while the walls come in at a slightly thicker 13/16 of an inch. It doesn't, however, come with roof shingles or a floor, two essential components that need to be purchased separately. For a foundation, Allwood suggests a gravel base with cinder blocks or rows of treated timbers if builders want something a little less permanent and easier to install than a traditional slab of concrete.
The Solvalla is made to order, so buyers can expect to wait up to 60 days until delivery. It's not Prime speed, but considering that it weighs 2,500 pounds it's hard to get mad about free shipping at any pace.
Of course, as with anything, you have naysayers, although it's worth noting that none of them have actually purchased the house and tried it out. "No kitchen, no bathroom, no privacy, no insulation, no electrical wiring, and not code compliant in any way," lamented one Amazon shopper.
"Screw this. For the price you can have an addition built on your house with ac. And electric," moaned another non-fan.
But if you're a weekend warrior ready for a challenge, this Allwood cabin is a great place to start.
Every product on Fatherly is independently selected by our editors, writers, and experts. If you click a link on our site and buy something, we may earn an affiliate commission.
This article was originally published on