This Versatile, Beautiful Piece of Cookware Is a Fit in Every Kitchen
The internet's favorite pan is exactly what a "modern heirloom" should be.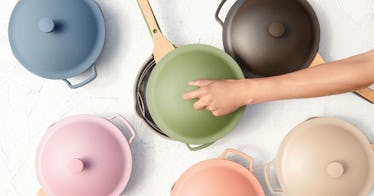 Direct-to-consumer cookware brand Our Place might be less than two years old, but its flagship Always Pan has already become the go-to pan in thousands of home kitchens across the country. What's behind its meteoric rise? The Always Pan is bringing something new to the kitchen: a versatile, cleverly designed piece of cookware that looks fantastic in any kitchen and eschews the potentially harmful chemicals that are often found in other pans.
It does a lot.
The Always Pan is designed to replace your fry pan, saute pan, steamer, skillet, saucier, saucepan, nonstick pan, spatula, and spoon rest. It's great for braising, searing, steaming, straining, sauteing, frying, boiling, serving, and even storing. Given that kitchen space — cabinet, counter, and otherwise — is often at a premium, particularly for families, a valuable benefit to the versatility of the Always Pan is that it can free up that space in your kitchen for other things or, blissfully, empty space.
And unlike specialized cookware that only works with a certain kind of heat source, the Always Pan is compatible with all cooktops. That means that if you move to a house with a different kind of stove you're spared the annoying task of swapping out your cookware.
It's tricked out.
A spoon rest is integrated into the handle of the pan, and it has a little peg that the included beechwood spatula fits snugly onto. The stainless steel steamer basket has a similarly Goldilocks vibe, sliding perfectly into the sturdy aluminum pan that somehow weighs only three pounds.
The lid has a notch that matches up to a similar one on the pan, allowing you to place it in different positions that let out or seal in heat and moisture. Dual pour spouts are the kind of thing that every pan should have but many often don't. The handle won't heat up, no matter how hot the pan gets.
All of these design touches add up to a pan that does things with a certain level of elegance that other pans can't match. Recipes that involve multiple cooking methods (e.g. steaming veggies, searing meats, and making a sauce) suddenly become one-pan recipes, saving loads of time on cleanup. You can also steam leftovers, eschewing the microwave for something that doesn't often result in rubbery and unevenly heated foods.
It's pretty.
Our Place calls the Always Pan a "modern heirloom" not just because it's a sturdy pan that will last years with simple care. The best heirlooms, after all, also have to look good enough for future generations to want to keep them around. In a sea of grey, silver, and black cookware, the Always Pan's muted, matte color options are particularly enchanting and simple enough to outlast trends. This pan is no flash in the pan.
It's safe.
The inside of the Always Pan is coated in an exclusive non-toxic, nonstick ceramic coating free of lead, cadmium, toxic metals, and nanoparticles and the threatening alphabet soup of PFOAs, PTFEs, and other PFAs. That means it's perfect for parents who aren't eager for their kids' pancakes (or, for that matter, theirs) to come with a side of chemicals.
When you make purchases through FamFare, Fatherly may earn an affiliate commission.
This article was originally published on