The Air OPUS Inflatable Camper Is Move-In Ready In Less Than 90 Seconds
by Michael Frank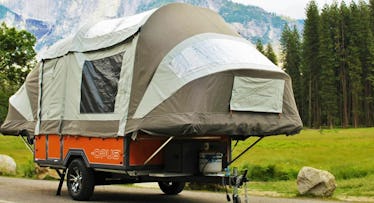 If the best kind of tent is one that pitches itself, then the same could be said of campers. And it could definitely be said of the new Air OPUS: Push a button and in less than 90 seconds it transforms from tow-behind trailer to a six-person pop-up tent.
At first glance, the OPUS is a standard 14-foot by 6-foot tow-behind that you can pile high with your kids' bikes and your Oru collapsible kayak. At 1,577 pounds (base weight), it's light enough to haul behind most passenger cars; even when loaded up to the max 3,500 pounds, it's still able to be pulled with your Nissan X-Trail 4Dogs.
RELATED: The Best Campers, RVs, and Rooftop Tents For Your Summer Adventures
The real beauty of the OPUS, however, comes in its setup. Instead of tent poles, it uses air tubes (dubbed "air pole technology") similar to those in your self-making bed. Simply switch on the integrated 12-volt compressor and bam … the whole camper comes to life like a festive lawn Gumby.
Once inflated, the Air Opus is airy in more than just name. It boasts 8-foot canopy ceilings that incorporate clear skylights, and broad, screened windows to let the space breathe. The unit comes standard with a kitchenette that includes stovetop and sink. Options include interior LEDs, a home theater, fridge, leather sofa, and even a portable, heated solar shower. Even better, there are dual double beds at opposite ends of the tents, so the groms aren't sleeping right beside you. The aforementioned sofa acts as a fifth berth if you were foolish enough to invite the inlaws.
As the trailers can be tricked out to your liking, your OPUS will be different than Mr. Holland's. And so will the price. They start at $19,799 and roll onto America's highways later this month.
(Available April 2017)