The Best Advent Calendars for Adults and Kids
Tiny. Surprises. Every. Day.
by Donna Freydkin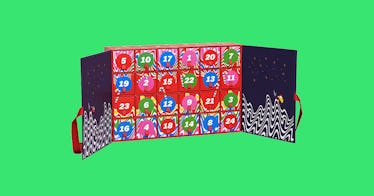 Even if you're not the type to get really into Christmas, there's something magical about an Advent calendar. The act of opening tiny little doors to reveal a surprise, once a day for every day of December until Christmas, is like getting 24 teeny presents — even if those little doors contain nothing more than the picture of a glowing candle. Still satisfying!
Advent calendars for kids or adults — the latter have taken off in recent years — give a fun, wholesome tempo to the post-Thanksgiving-pre-Christmas season of restless anticipation. There are, of course, plain Advent calendars, but most kids and adult Advent calendars these days contain all manner of tiny gifts behind their doors, ranging from chocolate, booze, and "beard treats," to Legos and unicorn stamps.
The Best Advent Calendars for Kids
The Best Adult Advent Calendars
Every product on Fatherly is independently selected by our editors, writers, and experts. If you click a link on our site and buy something, we may earn an affiliate commission.