A Running List of Dangerous Crib, Toddler Bed, and Mattress Recalls
Thankfully, there haven't been that many in the last two years. But there are still some to be aware of.
by Dave Baldwin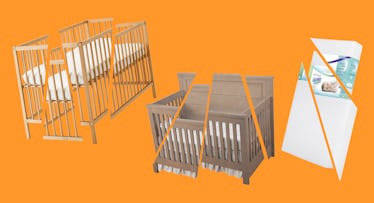 On average, more than 100 toys and kids products are recalled each year due to defect. Thankfully, cribs and mattresses are no longer high on that list. Due to stringent federal safety regulations passed in 2011, including an outright ban on all drop-side cribs, what was once a huge source of infant injuries and deaths is now a relatively minor problem. In fact, there wasn't a single crib recalled in the United States in either 2016 or 2017 (there were two in Canada). An impressive achievement for the industry, all things considered.
But that's not to say there aren't crib, mattress, or toddler bed recalls. In December, 75 toddler beds from Land of Nod and almost 24,000 crib mattresses from Dream on Me were found to be defective. One can collapse, the other is a potential fire hazard. Fortunately, there are multiple government agencies ⏤ most importantly the U.S. Consumer Product Safety Commission, which has jurisdiction over more than 15,000 kinds of consumer products ⏤ and watchdog groups like KidsinDanger.org and Safe Kids Worldwide who keep tabs on it all.
We also like to keep you updated you on all on the latest recalls, so that you don't have to take time out of your busy day to scour government websites. And since cribs and toddler beds are furniture that often gets pulled back into service with a new baby after some time in the basement, we thought it important to track recalls spanning a few years ⏤ just in case. Here's a running list of crib, toddler bed, and mattress recalls since 2015.
Note: If you have a problem with a dangerous product or a product-related injury, you should report it to SaferProducts.gov or call CPSC's Hotline at 800-638-2772.
Land of Nod Nook Toddler Beds
Hazard: Headboard can detach posing an entrapment hazardNumber Recalled: 75Recall Date: December 28, 2017Action to Take: Contact for refundContact: landofnod.com, 800-933-9904 The problem with Land of Nod's $500 Nook toddler bed is that the headboard can disconnect from the frame and collapse onto the bed, and presumably, onto the child sleeping in it. Fortunately, the recall only affects 75 beds, but there have already been four reported incidents. The beds were sold exclusively at LON stores or online between May 2015 through September 2017 and customers are eligible for a full refund. Full Recall Details
Dream On Me Crib & Toddler Bed Mattresses
Hazard: Violates the Federal Mattress Flammability Standard
Number Recalled: 23,400Recall Date: December 12, 2017Action to Take: Request a free mattress coverContact: dreamonme.com/customercare/product-recall/, 877-201-4317 Over 20,000 of these crib and toddler bed mattresses from Dream On Me were recalled at the end of last year because they pose a fire hazard. While no injuries have been reported, ten model numbers were affected (see here) and the fix is simple ⏤ request a free cover that brings the mattress into compliance with the federal flammability standard. Full Recall Details
Mother Hubbard's Cupboards' Matthew & Lauren Crib (Canada only)
Hazard: Mattress support system may dislodge causing a fall hazard
Number Recalled: 100Recall Date: December 5, 2016Action to Take: Stop using immediatelyContact: Company is out of business Only affecting parents north of the border, 100 of these Matthew & Lauren cribs (model 8700-700) from Ontario's now-defunct Mother Hubbard's Cupboards use a mattress support that can dislodge, allowing the child to fall. The cribs were sold until November of 2016, but as the company is now out of business, the only course of action is to stop using them. Full Recall Details
IKEA SNIGLAR Cribs (Canada only)
Hazard: Slats may detach from the top or bottom rail creating an entrapment, fall, or laceration hazard
Number Recalled: 175Recall Date: October 27, 2016Action to Take: Contact IKEA Canada for a full refundContact: ikea.com/ca, 800-661-9807 Another Canada-specific recall, IKEA's SNIGLAR cribs in beech wood (model number 502.485.41) use slats that can detach from the top or bottom rail and create dangerous gaps in which a child can become trapped. The recall is small, only 175 units, but the cribs were sold up to September of 2016. Full Recall Details
Bexco DaVinci Cribs
Hazard: A metal bracket can break, creating an entrapment, fall, or laceration hazard
Number Recalled: 17,600Recall Date: October 1, 2015Action to Take: Request a free replacement mattress support/bracketsContact: Davincibaby.com, 888-673-6652 Sold at Target and on Amazon, almost 18,000 of DaVinci's Reagan (#M2801), Emily (#M4791), Jamie (#M7301), and Jenny Lind (#M7391) cribs use a faulty metal bracket to connect the mattress support to the base. Five brackets have broken, leaving an uneven sleeping surface or gap in which an infant can become trapped. Children can also be cut by the metal. Parents are advised to find an alternate sleeping setup until requesting and installing free replacement mattress support. Full Recall Details
Baby's Dream Cribs
Hazard: The paint exceeds Federal lead limits
Number Recalled: 4,600Recall Date: May 8, 2015Action to Take: Contact company to exchange cribContact: 800-835-2742 While no injuries were reported, over 4,600 cribs (plus dressers, nightstands, and bookcases) in Baby's Dream's Brie, Braxton, Heritage, Legendary, and Everything Collection are finished in a vintage grey paint that contains more lead than federal regulations permit. The cribs were manufactured between March 2014 and March 2015 and sold online at BabyDreams.com and at major furniture stores across the country. Full Recall Details
IKEA SULTAN and VYSSA Crib Mattresses
Hazard: Gap between the mattress and crib poses an entrapment hazard
Number Recalled: 344,000Recall Date: May 1, 2015Action to Take: Contact IKEA for refund or replacementContact: ikea-usa.com, 888-966-4532 This recall might have been issued three years ago, but a lot ⏤ over 300, 0000 ⏤ of these SULTAN and VYSSA mattresses are out there, as they've been sold in the U.S. since 2000. The mattresses, which measure 52-inches by 27-inches, don't fit snugly in the crib and leave a gap larger than two fingers in which an infant can become trapped ⏤ two already have. If you have a recalled mattress, IKEA will refund or replace it free of charge. Full Recall Details
This article was originally published on