Teddy Ruxpin, Tamagotchi, and More '90s Toys Making a Major Comeback
There are a ton of toys that will make you nostalgic for the days of the Clinton administration. Here are some of the best.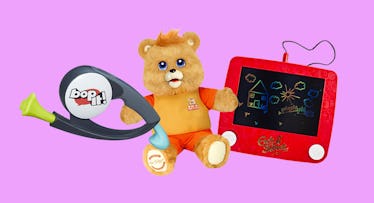 Your favorite toys from the 90s are staging a major comeback. Toy manufacturers, obviously recognizing that many 90s babies are feeling nostalgic, are re-releasing, often in updated versions, many toys that were huge hits in the decade. That means you can now find everything from a teched-up Teddy Ruxpin and Etch-a-Sketch to Polly Pocket and even, yes, Bop It! While you won't be able to pick them up at Toys 'R Us, you can find them online and indulge in a bit of "Back in my day" with your kids before going a few rounds with the updated Sock It Boppers. Here are 12 new versions of '90s toys to check out.
Super NES Classic
One of the hottest video game releases in recent memory wasn't the newest Call of Duty or Madden sequel. It was this cartridge-less, HDMI-equipped version of the beloved console that originally released in 1990. The SNES Classic, which comes pre-loaded with 21 games, immediately sold out upon release, as millions of adults and kids went about rediscovering the joy of Super Mario World.
Teddy Ruxpin
The original Teddy Ruxpin was a high tech update to a classic children's toy: a teddy bear with a built-in audio cassette player. When special tapes were inserted, the bear's mouth and eyes moved as if he was reading the story you heard playing from the tape. The new Teddy Ruxpin is an update to that update, an animatronic teddy bear with color-changing LCD eyes, Bluetooth connectivity, and a companion app with a library of titles to download. Despite the tech upgrade, the raison d'être — a friendly bear that tells stories — remains the same.
Polly Pocket
Before there were Shopkins, the micro collectible toys of choice were Polly Pockets. Mini-worlds shoved into a compact, portable case that could fit in, well, a pocket, Polly Pocket launched in 1989. The sets came in a handful of different scenes (amusement park, beach, home), each with their own tiny figures. Detailed houses and accessories could also be purchased separately.
The new Polly Pocket toys will be slightly larger than their predecessor. However, parents everywhere will have new and improved opportunities to mutter expletives under their breath as they accidentally step on the small and surprisingly pointy figures. The new sets will include a variety of updated options, including an open-topped limo as well as an underwater scene complete with a tiny plastic puffer fish and a treasure chest.
Etch-a-Sketch Freestyle
The original Etch-a-Sketch actually first hit the market in 1960, but the legendary toy was an integral part of plenty of '90s childhoods. You can still get the aluminum powder-powered original, but the Freestyle is also worth checking out. It has the red body and white knobs of the original, but it's actually a high-tech drawing device for children. When the included stylus hits the screen, a rainbow-colored surface is revealed wherever. The "knobs" on the Freestyle are actually stamps kids can use to make cloud and star shapes. One thing that hasn't changed? The shake-to-erase feature.
Tamagotchi Mini
This mini version of the classic digital pet was released in celebration of its 20th anniversary of the electronic pet. The original concept remains: Kids are still tasked with taking of the pixelated pet by responding to prompts that ask them to feed, scold, and clean up after it.
Furby Connect
Before the robo pet renaissance, which brought us the Pomsies, Lil' Gleemerz, Hatchimals, and Fingerlings of the world, there were Furbies. Released in 1998, the big-eyed pet promptly became a huge seller that year and the next. With the new millennium came a dramatic drop-off in the popularity of the Furby, but there have been some attempts to revive the toy ever since. The current model, Furby Connect, was released in 2016. It's a souped-up version of the original with 150 colorful eye animations, ears that move when it talks, and a joystick on its head that acts as a controller for games on the Furby Connect app.
Bop It!
Released in the late '90s, the original Bop It! was an electronic game in which a voice told you to "bop" a button, pull a handle, or twist another handle. If you did the wrong one or took too long, you were out. It was infuriatingly fun. The current Bop It! is a sleeker version of the original toy, with the three physical controls unchanged. There's a new option to play with the built-in accelerometer, which allows motion-only actions like Selfie it and Comb it, but '90s purists can stick with the original, physical controls only.
Tickle Me Elmo
It seems like an urban legend now, but near-riots greeted the release and subsequent shortages of this talking toy. Challenging the notion that they're mild-mannered as a country, a group of desperate Canadians parents trampled a clerk at a store in New Brunswick when they spotted him holding one of the precious toys. Among other injuries, he broke a rib and suffered a concussion. The days of Elmo-inspired melee are over (we hope), and the newest version of the doll is pretty much the same as the original. Tickling the doll's stomach or squeezing its foot leads to that trademark giggle, no app necessary.
Socker Bopper
You may remember these as Sock 'Em Boppers, but thanks to a 2002 lawsuit from Mattel (owner of the Rock 'Em Sock 'Em Robots trademark), the name was changed. No matter what they're called, these inflatable gloves remain the best way to punch your little brother in the head with minimal risk of hurting him or yourself. He may be old enough to rent a car now, but he'll never be too old for a Bopper-enhanced fistfight.
Betty Spaghetty
Questionable spelling aside, Betty Spaghetty was a very popular rubber doll in the '90s. Betty had interchangeable limbs and outfits and long hair that could be styled. The current iteration of Betty Spaghetty is similarly customizable and bendable, available in several different costume combinations, including a Cupcake-themed set.
Troll Dolls
The wispy-haired dolls had a recent moment with 2016's animated Trolls, and another is coming in 2020 when the sequel, Trolls: World Tour, is released. In the meantime, plenty of branded merchandise from the first film is available. Sadly, the dolls inspired by the movie are less ugly, less naked, and less charming than the originals, but they do still have that high, combable hair.
Cabbage Patch Kids
Cabbage Patch Kids reached their zenith in the mid-1980s when they were the best-selling toy in America for three years. After some rocky times at the end of the decade, they made a comeback in the '90s under the ownership of Hasbro and then Mattel. Today, they're made by Wicked Cool Toys, but the somewhat weird idea behind the dolls is the same.
You don't buy the chubby-cheeked dolls for a price; rather, you pay an adoption fee for them. We don't really get it, but these toys have lasted through four decades and seven different companies' ownership, so there must be something about them that keeps people coming back.
This article was originally published on