8 Surefire Signs That a Toy Won't Last
The best toys have a lot in common. So do those that won't stand the test of time.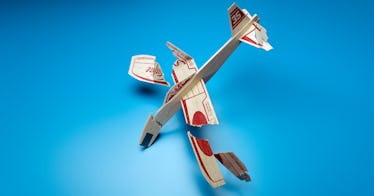 The United States toy market is a $22 billion industry. Gone are the days of clay marbles and stones that could be anything from wizards to weather balloons, and here are the days of 1,200-part personal robots that mimic human emotions. What a time to be a parent, right?
Amidst all the blinking lights and fancy packaging, it's easy to get side-tracked from the items that really matter. Toys have always been a gateway to children's imaginations, passions, and joys. But, what are the signs a toy won't last? Well, the best toy is an open one. When it comes to buying stuff for your kids, you want toys that inspire creativity, encourage exploration, and foster the development of crucial physical and social skills they need to be able to function in the world. Here are some additional signs that a toy isn't worth it.
1. It's Made of Flimsy Material.
Let's get this one out of the way first. "Most viable toys are made with sturdy plastic, wood, or other materials that are meant to withstand getting dropped, dragged, or banged on," says Dr. Helen Hadani, Educational Advisory Board member at The Goddard School, and expert in early childhood and creativity development. Toys made from cloth or foam, while certainly have use, likely won't last long. Dr. Habani's favorite, however, is wood. "There is a great selection of toys made from wood that are pretty much indestructible. Block sets are an obvious choice, but there are also wooden food play sets puzzles, doll houses, and many more."
2. It Has No "Staying Power"
The best toys, like the best methods of play, are open-ended. They allow children to explore multiple routes of creativity and don't box them into one specific style of activity. Think: Legos, Kitchen or food toys, broad playsets, blocks. Other toys have their worth, per Dr. Hadani, but kids will likely bore of them easily. "Open-ended toys tend to have staying power," she says. "Children can use them in many different ways, based on their current interests."
3. It's All Blinking Lights and Beep-Boops
Thanks to the monotony and lack of variety, robotic playthings that perform tend to wear out their welcome pretty quick. The canned responses – even if they're large in number – will ultimately bore a creative child before the batteries need replaced. "When children are intrinsically motivated they are learning and creating for self-fulfillment with no external reward in mind," says Dr. Hadani. That is, kids are smart. They are quick to bore of a toy with limited responses and movements, no matter how exciting those movements might be in a commercial. This dovetails with what The American Academy of Pediatrics found in a January 2019 report: The very best toys don't have flashing lights or screeching sounds. Instead, they're those that encourage social interactions and imaginary and pretend play, without being overstimulating.
4. It's Not Obvious
We're all victims to shelf appeal. Colorful boxes, attraction modes, and clever packaging gimmicks are worthy investments for toy companies. But, your kid isn't fooled. According to Dr. Habani, asking your kids a few simple questions along the lines of, "What do you think would happen if you pushed this button?" "How would you make this toy go?" or "What would you build with this toy?" can help gauge your child's interest in the toy, and save you some valuable toy chest space.
5. It's Not Group-Friendly
It's not unusual for kids to want to play by themselves. In fact, Solo play can encourage critical thinking and problem solving, while combating clinginess. But Dr. Hadani stresses the importance of having toys that are able to be played with by multiple parties and advises one critical question before you head to the checkout line: 'Who else do you think would like to play with this toy (with you)?' "This question addresses the important role of social play for young children." If your little one can imagine a caucus of wide-eyed pals eager to play with his or her newest wares, chances are it'll be around for a long time.
6. It Doesn't Come Apart
"Another option is to lean into children's natural inclination to take things apart and get them a building set — Legos, K'Nex, or Magnatiles," explains Dr. Hadani. Because children are wired to explore, finding a toy that they can disassemble, then reassemble over and over again will provide cognitive and kinesthetic fulfillment. They'll also learn everything from spatial skills, pattern recognition, and other valuable skills.
7. It's One of Many….
"Researchers observed toddlers playing with four toys, versus 16 toys, and found some interesting differences in the way they behaved," says Dr. Hadani, citing a famous 2017 study published in Infant Behavior and Development. "In particular, children who were given four toys played with them in more varied ways and for longer stretches of time. The researchers posit that fewer toys can lead children to engage in more creative and imaginative play." Has there ever been a better argument for quality over quantity? Yes, we're sure you have more than four toys. But there's a case for making only four available for stretches of time.
8…And It Doesn't Play Well with the Other Toys.
Buzz and Woody may have ended up friends, but toys that don't mix can quickly become attic fodder. Dr. Hadani has two daughters (now teenagers) and some of their favorite toys were wooden food play sets. They had several sets made by Melissa & Doug that her daughters played with for many years. They mixed the pizza set with the sandwich set to create new 'recipes,' served the food at tea parties, and set up a supermarket with different aisles of food. The moral of the story? A toy is both a trinket and an intellectual innovator. The best toys mix and match well.