8 Siri, Alexa, And Google Home Hacks All Parents Should Know
"Alexa, entertain my children."
by Jon Chase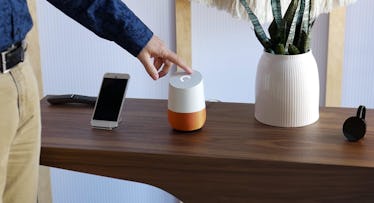 Sure, voice assistants can read you the news, pull up the new Tribe Called Quest album on request, and add items to online shopping carts. But like Amazon Alexa, Apple's Siri, and the Google Assistant can pitch in on a much bigger task: Child rearing.
RELATED: Google Home Can Control A Lot of Your House But Not Your Kids
Yes, these disembodied voices, which have their own built-in commands and work within their various makers' connected smart home devices, can DH for you. They can read bedtime stories, teach math, or simply enable the kids to turn on the TV or lights without needing to stand on a stool. Though, who knows what will happen when your kid calls them a poopie-head. Here, then, are 8 little-known ways these voice assistants can make parenting a bit easier. Just make sure the kids don't develop some unwanted sass.
Let Alexa Teach Your Kids About Animals
Simply say, "Alexa, enable Animal Game," and she'll start asking a series of yes or no questions in hopes of magically deducing the animal on your kid's mind. While Alexa is certainly stumpable, the more specific you get — a Thompson gazelle is a wee bit on the nose — the game is a great way for kids to experience deductive reasoning, and to contemplate the habits of their favorite animals: Is a beagle a predator? Depends on if they're hunting the Red Barron.
Use Siri Turn On Nightlights From Afar
The humble (and infuriating) nightlight becomes all-powerful when paired with voice-control thanks to the $50 iDevices Switch. The brainy outlet has a dimmable, tweakable, multi-color LED light band. Siri commands can turn anything plugged into it on and off (like, say, the other bedside lamp your kid demands). It's handy for letting the kids flip on the lights themselves — or making know who's in charge ("Siri, activate nightlight to remind kids of my superpowers.")
Let The Kids Turn On Their Favorite Shows With Google Home
Young kids are literally illiterate and therefore depend on you for all data input work. This is fun for the first 32 airings of Raffi's "Bananaphone", but the novelty begins to wear off quickly. If you have a $35 Google Chromecast (or your TV is already Cast compatible) and Google Home, the kids can use their voice to call out YouTube requests. It's as simple as saying "Hey, Google, play Elmo's Song on the TV." Welcome to the terrordome.
Have Alexa Read Books From Audible
Amazon's Audible is available across all the big smart device platforms, but Amazon's own Alexa provides the easiest route for kids to call up their favorite titles. She's even nimble enough to understand some of their garbled phrasings ("Alexa, pway Curwus Gorge") Just note that navigating books without chapters can be frustrating or impossible, and you often end up resuming where you left off or starting from the beginning. Pop is going to get hopped on a lot.
Tell Siri To Start A Strobe-Lit Dance Party
One of the most popular smart home hits? Philips Hue's line of color-changing light bulbs. Partnered the bulbs with a HomeKit network, lets kids get their yucks by changing light colors and turning them off and on. Fun! But adding the $3 jukebox app Ambify takes it to super-rave levels. It syncs Hue lights with audio from your phone. Now, simple voice commands will make them throb, strobe, and do all the things you'll remember from when you used to go to places with flashing lights. Like Kanye's studio.
Use Alexa To Improve Your Kid's Multiplication Skills
In a classroom, kids dread a math quiz. Between friends in the confines of the home, however, and numbers are just another fun game. This is terrific, and Alexa's Math Mania (say: "Alexa, enable Math Mania") is a spare but fun entry for kids who know division and multiplication to test their wits and progress.
Let Siri Read Some Bedtime Stories
Don't have it in you to read about the wild rumpus again? Have Siri pinch hit. Go to your device's settings, select "General," then "Accessibility," and tap "speak selection." Select your book in iBooks, click the "Text" button, then "Themes," and choose "Scroll." Tap in your book wherever you'd like to start reading to highlight the word and then drag down for as many pages as you'd like to read. Let go and then select "Speak" from the menu that pops up. "Easy" as that.
Have Alexa Quiz The Kids On State Capitals
For kids, learning the state capitals is the first badge of honor. It needs to happen so forgetting them can be the first badge of adulthood. Alexa's internal game (say: "Alexa, enable State Capital Quiz") has no twists or options, just 5 questions and 5 chances to answer. Kids can, also choose to go head-to-head or while away the hours chipping away at the full list of 50.
This article was originally published on