The 8 Best Bike Accessories For Kids
From a smarter kickstand to a bicycle boom box, these are accessories the whole family will want to roll with.
by Jen See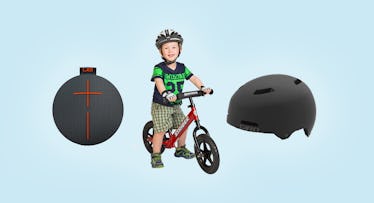 For the family that wants to get outside without taking it too slow, a bicycle is a perfect solution. But in order to ride safely together as a family, it's important for parents to know about the best kid's bike helmets, the best kid's bikes, and sort through a load of bike accessories that help make a day out on two-wheels so much fun. Check out these eight essentials for velo-enthusiasts of all ages.
Strider 12 Sport
Learning to ride a bike can be a challenge and Strider has set out to make it easier. Strider push bikes help kids learn how to balance without the additional steps of pedaling and braking. Kids can start scooting around on their Striders as early at 18 months. The Strider 12 Sport features a durable steel frame and the seat and handlebar heights are adjustable with a quick release, so dads won't need to dig a wrench out of the toolbox. A padded seat offers comfort and Strider includes a pad for the handlebar, too, for additional safety. Footrests on the frame offer a first step toward learning to pedal. Strider says the 12 Sport will fit children from 8-months to five years, or inseams between 12 and 20 inches. Available in 8 colors.
Giro Dime MIPS
Giro's Dime offers a skate-inspired, urban-design kid's bike helmet for all small noggins. It features an EPS foam liner wrapped in a tough outer shell and features eight vents keep a kid's head cool. The EPS liner is also combined with a polyurethane coating for added durability. Giro's webbed strap system is easy-to-use, with soft, sweat-absorbent pads that create a comfortable fit. MIPS liners have become increasingly prevalent in cycling and snow helmets and they provide additional protection from some impacts. The Dime delivers simple and durable design and quality protection for the right price. It's available in sizes XS and small and should fit ages from three to 12. For bigger sizes, check out the Giro Quarter. Available in black, blue, or pink.
Thule Coaster XT
A trailer bike allows a kid to come along for the ride without slowing a parent down. The Coaster XT uses Thule's EZ hitch system which works with just about any kids bike. It'll fit two kids with additional storage space for diaper bags and other essentials. "I pulled it behind my cyclocross bike," says former pro cyclist and NBC commentator Christian Vande Velde. "The kids loved being in there. They felt completely secure while inside." Vande Velde says he'd stock the trailer with food and drinks and usually his kids would fall asleep after 20 minutes or so. He used the Coaster on- and off-road. "That thing was durable!" The Coaster XT gets extra points for versatility because it converts to a stroller for jogging or cruising, thanks to an included third wheel and handle.
The Scott Speedster JR 24
The Scott Speedster JR 24 is designed for a kid who wants a ride that's as sweet as dads' road bike — it's just like a big person's ride, but fun-sized. "It's the bike I got for my daughter when she was eight after she begged for one," says Vande Velde. The Speedster features an aluminum frame, Shimano's 2 x 8 speed Sora drivetrain, and a quality build. Vande Velde says it fit his 8-year-old daughter perfectly and she could likely have jumped on it sooner. The Speedster aims to introduce kids to the fun and freedom of road riding with a bike sized specifically for them. "She's just starting to outgrow it now at 10-and-a-half and my youngest has her eyes on it now," says Vande Velde.
Yuba Spicy Curry
Many parents have embraced cargo bikes as a fun, environmentally friendly way to carry their kids around town. Now, thanks to improved battery and motor technology, electric-assist bikes make it much easier to schlep the kids hither and yon on two wheels. Yuba's Spicy Curry uses Bosch's high-performance e-bike platform to create a cargo bike that's practical and fun to ride. "We test rode a handful and that was the one we liked best," says Galen Pewtherer, who carries his two daughters on a Spicy Curry. "We use it for commuting, getting kids to school, grocery shopping, playdates — just about everything."
The Spicy Curry features a smaller, 20-inch rear wheel to lower the kids bike's center gravity and make loading easier. Shimano's quality Deore 10-speed drivetrain handles shifting and Shimano hydraulic brakes put a check on unwanted velocity. Yuba makes a range of accessories from child seats to panniers to customize the ride. The battery has a range of 30 to 60 miles and Yuba says the Spicy Curry will carry a cargo of 300 pounds plus a rider.
UE Roll 2 Volcano
There's nothing wrong with adding some sweet beats to a bike ride. The UE Roll 2 Volcano is a wireless Bluetooth speaker that's compatible with most smartphones and tablets. It also includes a 3.5mm media output. "I'm a big fan of the UE Roll," says Mark Blacknell, who regularly rides with his kids. "It attaches anywhere and kids love music while riding." The UE Roll 2 Volcano has a rechargeable battery with up to nine hours of life. It's also waterproof, so you don't have to worry if a sudden rainstorm blows through your ride. Available in seven colors.
Velo Orange Porteur Double Kickstand
Loading and unloading a kid from a bike, cargo or otherwise can be downright perilous. One bad bobble could send bike and kid crashing to the ground, making what would have been a great ride way less than great. A double kickstand will ease the transition from actually riding your bike to parking it. "A quality double-leg kickstand is essential, even if you're just putting your kid on a seat on the back," says Blacknell, who has carried up to three kids on his cargo bike. Accessories such as child seats and panniers add weight to your bike which makes it less stable. Velo Orange's double kickstand holds your bike secure while you load and unload your precious cargo.
Specialized Riprock Comp Mountain Bike
Until recently, buying a mountain bike for a kid has meant creating a franken-bike out of adult size pieces. With the Riprock Comp, Specialized has designed a fun, fully capable mountain bike for kids. The Riprock features a durable aluminum frame and rolls on plus-sized 24-inch tires. The wider tires make for a more stable ride and provide greater traction than the narrow tires traditionally found on kids' bikes. A 70mm SR Suntour XCT fork handles suspension up front. Specialized keeps it simple with a single chainring up front and a 9-speed cassette in the rear. The Riprock also includes disc brakes just like the bikes made for the grown-up kids. Share your love for the outdoors and the trails and watch your kid learn to rip.
This article was originally published on