The 7 Grill Tools to Use This Barbecue Season
Meat thermometers. A better than ever basting brush. Gloves that are damn near indestructible. This is how you step-up your grilling game.
by Ben Radding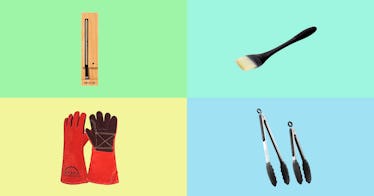 Good grilling requires the right grill — and the right grilling tools. We're talking tongs that can tug on a rack of baby backs and not cut into them or slip, gloves that can protect your hands when you reach in to sauce that pork butt, and a meat thermometer that gives you the most accurate readout to ensure you, well, don't accidentally poison your barbecue guests. Good grilling requires steady heat, time, and not much else. But these seven grill tools can help bring your grilling game to the next level.
This article was originally published on