The Best Apps for Identifying Bugs, Trees & More in the Woods and Garden
Or, you can just keep making things up when they ask you what kind of tree that is.
by Amos Kwon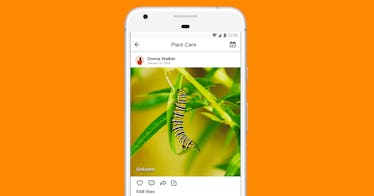 Maybe you can't tell a fire ant from a fire hydrant, but with the power of the sky internet and a bug identification app on your smartphone, you're a walking Museum of Natural History. Modern tech has found a solution to your child's never-ending thirst for knowledge, and easy-to-install (and easy-to-use) insect identifier apps and other nature apps for smartphones and tablets name trees (including the popular Picture This app), stars, planets, animal tracks, and more. Day or night, urban or rural, provided you have service, these apps essentially Shazam flora and fauna, answering the basics like "What insect is this?" to even the most obscure husbandry queries. Whether your son or daughter is interested in bugs or buds, the window of time during which he or she invites your input is brief, so leverage technology to make it last as long as possible. (And let's be honest, your son or daughter is already on your iPhone, so he or she might as well be using a tree identification app instead of YouTube.) Some day soon, your child will be able to Google things for him- or herself, but in the meantime, you'll be right there showing and naming things along the way.
Insect Identifying Apps
How It Works: Just take a photo of the insect you wish to identify and Picture Insect will use artificial intelligence to try and match it with one of the over 1,000 species they have cataloged.
What's Awesome: Users can share photos with each other for second opinions on what type of insect is pictured.
What's Less Awesome: There are in-app purchases available, so keep this one away from curious little fingers.
Star and Planets Apps
How It Works: Star Walk uses your phone's camera and GPS to identify planets, stars, comets, constellations, and even the international space station in your corner of the night sky.
What's Awesome: When you hold your phone to the sky, Star Walk overlays a map of all the celestial objects you can see from your point of view. The map is updated in real-time as you move, and users can view 3-D maps of constellations and read about their stories. The app also updates you on upcoming celestial events that are visible from your location. There's even a kids version for younger users.
What's Less Awesome: There are in-app purchases, and you have to download additional packs to get information about satellites.
How It Works: Point your phone's camera at the night sky and SkyView will determine your location via GPS and identify all the planets, constellations, stars, and satellites that are currently visible. Note that the iOS version of the app has been rebranded as Night Sky, which has the same capabilities.
What's Awesome: A robust search function that helps you find things like the International Space Station, the Hubble telescope, or the Big Dipper (which, really, you should already know how to find already). It also has daily updates that point out when new things have become visible.
What's Less Awesome: Not much — SkyView is one of the top-rated nature apps of all time in the App Store. There are some grumblings on Google Play about compatibility issues with certain phones, but it still has a 4+ rating on over 4,000 reviews.
Animal Tracks Apps
How It Works: Another app version of an old school field guide, iTrack Wildlife lets you search a database of 69 North American mammals based on some basic information about their foot, paw, or claw prints.
What's Awesome: The nature app will not only help you identify animals based on their prints, but also on their skulls (provided you're taking your kid to the sort of place where old animal skulls are lying around).
What's Less Awesome: Tiered pricing means you can access a handful of species with the free "Lite" version and a handful more with the "Basic" version. The whole package is pretty spendy for an app, but do you really want to save $10 and not know you're following a cougar until you catch up to it?
Bird Apps
How It Works: Merlin asks you four simple questions about any bird you happen upon and delivers a small selection of potential species. Assuming you can see and/or hear it, you can quickly identify whatever it was that just pooped on you.
What's Awesome: Merlin cross-references your answers with a massive database of bird sightings that's maintained by thousands of hardcore bird geeks, and only suggestions species that are known to have been seen recently near your location.
What's Less Awesome: While suggested species will include samples of their song, the nature app can't identify a bird based on its song, which some less-free apps can.
Tree and Plant Identifying Apps
How It Works: Users have access to a registry of thousands of species of trees, which can be narrowed down by location so that users see which trees are native to their region. Users can also identify trees by answering a series of questions or consulting range maps and specie photos.
What's Awesome: Users can submit questions and photos to experts like "Dr. Dendro", a tree expert in the Department of Forest Resources and Environmental Conservation at Virginia Tech, who will help identify tricky trees. The app is also free.
What's Less Awesome: The app only covers trees in North America,
Free (Android)
How It Works: Simply snap or upload a photo of any plant you encounter, from indoors to the Great Outdoors, and (provided you have service) PictureThis identifies the species in question from more than a million entries.
What's Awesome: Great for identifying mystery house plants and young sprouts that pop up in the spring garden, its knowledge base is handy and should make it an essential app for just about everyone who goes outside. Also, have a sickly plant that's in need of some TLC? For new houseplant aficionados, it diagnoses problems and prescribes solutions.
What's Less Awesome: Asking AI to be perfect is wishful thinking, and this app can struggle to identify plants in tricky light conditions like strong back- or side light. Also, there is a premium subscription that some users say is difficult to cancel if initially agreed to (the app is still completely functional without this paid service).
This article was originally published on